And happy anniversary, this being one year since the Antiplanner's first post. I would like to extend my best wishes for 2008 to Jim Karlock, Aynrandgirl, John Galt, and all my other faithful allies, as well as to DanS, D4P, MSetty, and all my other loyal opponents who have worked so hard to keep me honest. It has been good to have all of you join me for past year's investigations into the trials and tribulations of government planning.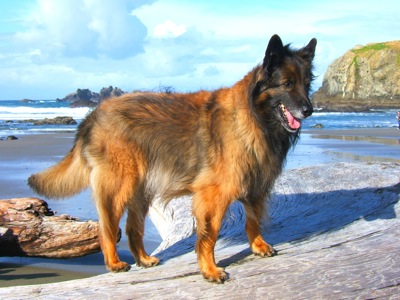 The Antiplanner's best friend, Chip, wishes you a Woofy New Year.
When I began this blog, I promised to "post to this blog at least five days a week." I pretty much kept that promise (I missed March 1st because I misdated a post March 2 that was supposed to be for March 1). But this has been hard work. Because I like to thoroughly research and document the issues I discuss, many posts take several hours to write.
For 2008, I promise to write several posts a week, but not necessarily a post every weekday. I am going to try to cover some new issues — light rail and Portland are easy targets, but attacking them is getting repetitious. And more of my posts might be shorter, more blog-like, rather than the op-ed lengths that I usually produce. Nevertheless, I hope this blog will remain as entertaining and thought-provoking as ever.