A plan to spend $5.5 million to build a bike/pedestrian bridge in Portland that will probably carry only a few hundred people a day have generated a major controversy. Portland's mayor has come out against the plan, local businesses have invested in studies challenging the plan, and the whole idea has become a major subject for talk radio and letters to the editor.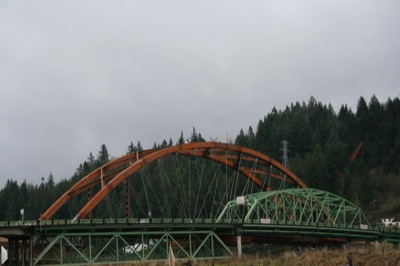 The new and old Sauvie Island bridges.
Flickr photo by Tokenhippygirl.
The plan was conceived when the Sauvie Island Bridge, north of Portland, was being replaced. Someone said, "Why don't we take the old bridge and use it as a pedestrian/bicycle bridge across the I-405 freeway in downtown Portland?" City commissioner and mayoral candidate Sam Adams, who never met an alternative transportation project he didn't like, immediately jumped on the idea.
UPDATE: Bojack presents an interesting analysis of the safety aspects of the proposed viaduct using Google street view photos.