Ridership on Megabus is "well up from last year," and starting in about two weeks the company plans to expand service to several new cities. Megabus will then serve nearly 50 major cities, all with virtually no subsidies.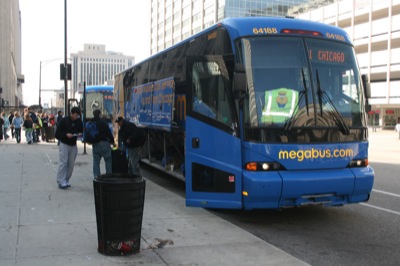 Megabus near Chicago Union Station.
Flickr photo by compujeramey .
Meanwhile, high-speed rail nuts want to spend tens to hundreds of billions of dollars of public money on trains that, for the most part, won't run faster than Megabus and for many years won't be running at all. In contrast, Megabus has low start-up costs and can tailor services to local demand.