It is an article of faith among passenger rail advocates that the federal government killed intercity passenger trains by subsidizing the Interstate Highway System. "There were a number of reasons for the rapid decline of rail passenger service, but the overwhelming factor was the explosion of government funding for new highways and airports," says the Progressive Policy Institute, which adds, "In 1956, Dwight Eisenhower signed the Interstate and Defense Highways Act."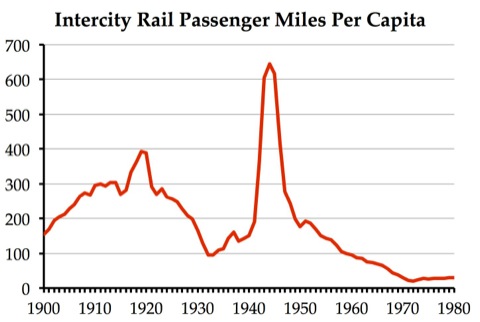 One major problem with this is that intercity rail ridership began declining decades before Congress approved the Interstate Highway System. As the chart above shows, per capita rail passenger miles peaked in 1919 and fell by half during the "roaring 20s." They declined another 50 percent during the Depression, then grew to a second, but quite artificial, peak during World War II.
After the war, per capita passenger miles dropped precipitously despite rapid economic growth. By 1949, they had fallen to 1929 levels; by 1960–after Congress authorized the Interstate Highway System but before very many miles had been built–they had fallen to less than at the depths of the Depression. The interstates obviously had nothing to do with this. Since 1970–the year before Amtrak took over–they have hovered between 20 and 30 passenger miles per capita, or 10 to 15 percent of what they were in 1919.