"U.S. runs out of funds to battle wildfires," misstates a Washington Post headline. "In the worst wildfire season on record, the U.S. Department of Agriculture Forest Service ran out of money to pay for firefighters, fire trucks and aircraft that dump retardant on monstrous flames," continues the article, making two more errors.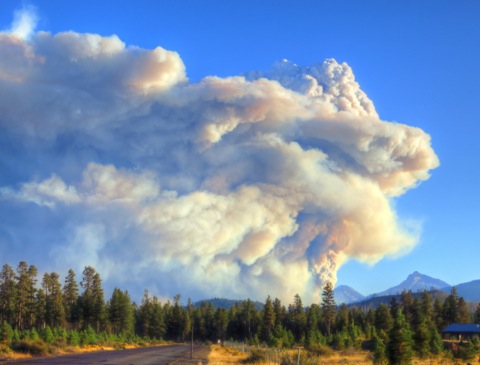 Smoke from the Pole Creek Fire billows above Black Butte Ranch, near Sisters, Oregon, on September 9, 2012.
First, 2012 is hardly the worst wildfire season on record. We only have to go back to 2006 to find a year that had burned more acres, as of October 5, than 2012. Before 2006, several years in the 1930s and 1950s vastly exceeded 2012′s number: an average of nearly 40 millions acres a year burned in the 1930s.
Second, no one, least of all the U.S., has "run out of funds." Instead, the Forest Service spent its budgeted amount on fire. This has happened many times in the past, and when it happens, the Forest Service continues spending money on fire by borrowing it from other line items, then expecting Congress to reimburse the borrowed funds. Admittedly, this is, more or less, what the article goes on to say.
What the article doesn't say is that this tradition has grown out of a long history of the Forest Service spending too much on fire suppression. That history began in 1908, when Congress gave the Forest Service a blank check to suppress wildfires. Under this law, the Forest Service could spend as much as it needed on fires with full confidence that Congress would reimburse the funds at the end of each fire season. As far as I know, no other legislature in history has ever given any agency a blank check.