Land-use planning has made British housing so expensive that more than half of all homeowners expect to have to downsize the next time they move while only 22 percent expect to upsize. Home prices in Britain and other European countries with lots of land-use regulation tend to bubble as much as prices in California and other states with strict land-use rules.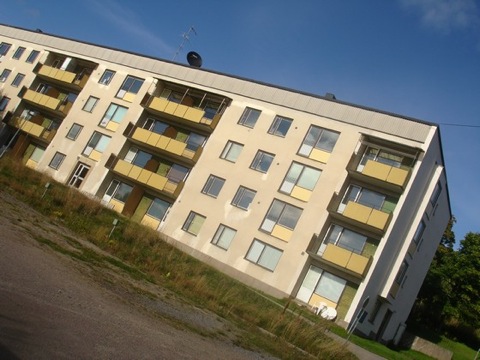 This Swedish apartment building slated for demolition due to planners' overbuild of multi-family housing looks a lot like many so-called transit-oriented developments recently built in Portland. Photo is from the Swedish "abandoned places web site.
Meanwhile, Swedish planners so overbuilt multifamily housing that, since 1995, they've had to demolish 20,000 units, and many more wait to be torn down. The apartments were built as part of what planners called the "million programme," in which a million dwellings were to be built in the 1950s and 1960s. About 110,000 of these units were built in three- to eight-story apartment buildings during the 1950s and 1960s. They were so uniform and boring that, in 1971, people took to the streets to revolt against government policy and demanded the right to build and live in single-family homes. As a result, where before 1970 three out of four dwellings built in Sweden were multifamily, after 1970 three out of four were single family. Here are some photos of apartments waiting for demolition.