The Antiplanner spent much of last week in San Antonio releasing a review of the city's plans for a downtown streetcar. The trip turned out to be a lot more hectic (and with a lot less Internet access) than I expected, which is why I made so few posts last week.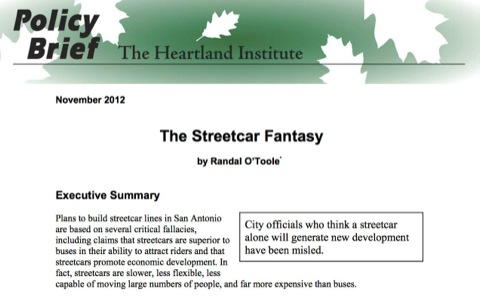 Sometimes I wonder if streetcars are tests of intelligence or gullibility, as they are such bad ideas it is hard to believe that cities are falling all over themselves to fund them. As I point out in my report, 100 years ago, both streetcars and automobiles went at average speeds of about 8 miles per hour. Today, autos routinely cruise at 80 mph (at least in Texas), but San Antonio's proposed streetcar will still go at just 8 mph.
The Antiplanner's report for San Antonio is called "The Streetcar Fantasy," partly because the feasibility study for the San Antonio streetcar is filled with fabrications and imaginary data. For example, page 68 the study discusses how the Boise streetcar was financed and page 69 discusses how the Arlington, Virginia streetcar contributed to economic development–yet neither Boise or Arlington have streetcars.