The Wall Street Journal observes that high housing costs are hurting the California economy. This brilliant conclusion is based on a report by Mac Taylor of the state legislative analyst's office. Unfortunately, the report misses a few important details and as a result comes to entire the wrong conclusion.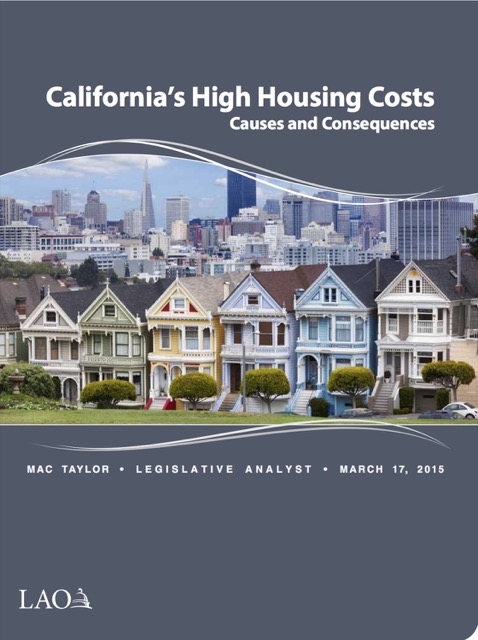 Housing is expensive, the report says, because California isn't building enough of it. Well, duh. Why isn't it building enough? According to the report, it's because there is a "limited amount of vacant developable land." The solution, the report concludes, is to build higher densities in the land that is available.
Apparently, Taylor has never left a California city, otherwise he might have a faint idea that most of California is vacant developable land. In fact, almost 95 percent is rural land, and most of that is developable.
As the Antiplanner has noted before, this spreadsheet from the 2010 census shows that 95.0 percent of Californians live in urban areas that cover just 5.3 percent of the state. The average density of California's 5.3 percent is 4,300 people per square mile, nearly twice the average of urban areas in the rest of the United States. Of the other 49 states, only New York comes close (at 4,100 people per square mile), and deduct New York City and that falls to about the U.S. average.
So Taylor's prescription of increasing urban densities has already been tried and failed. Density is the wrong solution because density only makes housing more expensive. Density means more competition for land, so land prices rise. Density makes infrastructure costs higher, especially if infrastructure designed for low densities has to be rebuilt to serve higher densities. Mid-rise and high-rise housing also costs more per square foot to build than low-rise housing.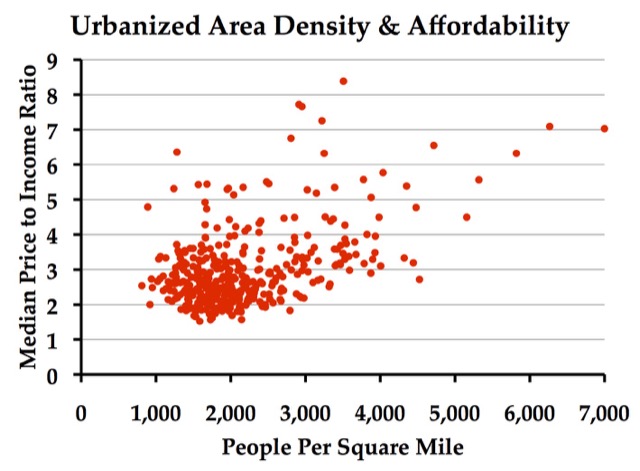 Population density is strongly correlated with housing affordability.
For further proof, compare the average density of urban areas in the 2010 census with the level of housing affordability in those areas, as measured by dividing median home prices by median family incomes. The correlation is very strong, suggesting that variations in density explain nearly half the variations in housing affordability.
When planners wrote Plan Bay Area, whose twin goals were to reduce greenhouse gas emissions and make housing more affordable, they followed the standard prescription of increasing urban densities. The result was a tiny reduction in greenhouse gas emissions but also a reduction in housing affordability. Density is not the answer to California's housing problems.
Taylor only briefly alludes to the abundance of vacant land in California when he notes that much of the land surrounding urban areas "is undevelopable due to mountains, hills, ocean, and other water." Oceans are not land so that's not really an issue; what is an issue is that close to 85 percent of land in the San Francisco Bay Area has been regulated as off-limits to development, and the proportion is roughly the same in southern California. To say that these lands are undevelopable because they are hilly ignores the fact that there is a little town in California called San Francisco that is built almost entirely on hills (and the part that is flat is the least stable part of the city).
Taylor's only reference to California's onerous land-use regulation blames cities for insisting on low-density zones and blames the California Environmental Policy Act for creating an onerous planning process. He never mentions the land that is off limits to development outside those cities due to urban-growth boundaries and other land-use regulation, or how that land gives cities the power to impose onerous and time-consuming planning rules because they know developers have nowhere else to go. Nor does he mention the Local Area Formation Commissions (which are run by the cities) that have kept most of the state's land off limits to development. California's economy would benefit greatly from jettisoning both of these laws.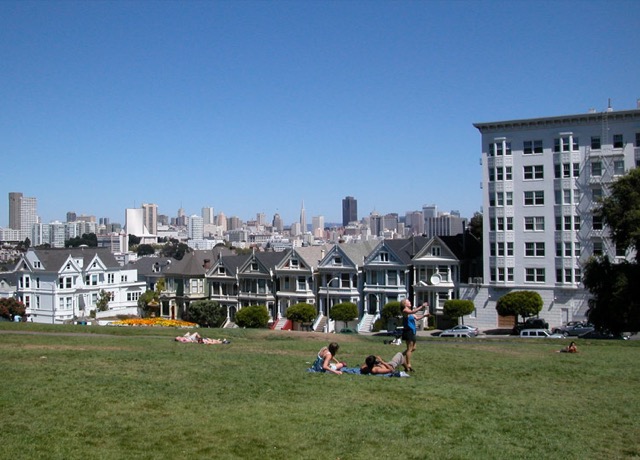 Ironically, the cover of Taylor's report shows a photo of the lovely Victorian-era single-family homes across from San Francisco's Alamo Park. If dense housing is so wonderful, why didn't the report show what is next to those homes: a seven-story apartment building. For some reason, almost all photographers crop that building out of their photos of romantic San Francisco.
As Dave Cargill of the California Building Industry Association told the Wall Street Journal, "people, given their choices, would prefer to have a single-family detached residence on their own, on a plot of land somewhere." California's economy will continue to suffer until California lawmakers recognize that density is neither necessary nor sufficient to meet their greenhouse gas emissions and other goals.