According to the 2013 American Community Survey, San Francisco has 381,000 housing units. The San Francisco Chronicle has found that about 350 of them are used as full-time vacation rentals through Airbnb. This, says the paper, "bolster[s] claims by activists that the service removes scarce housing from the city's limited inventory."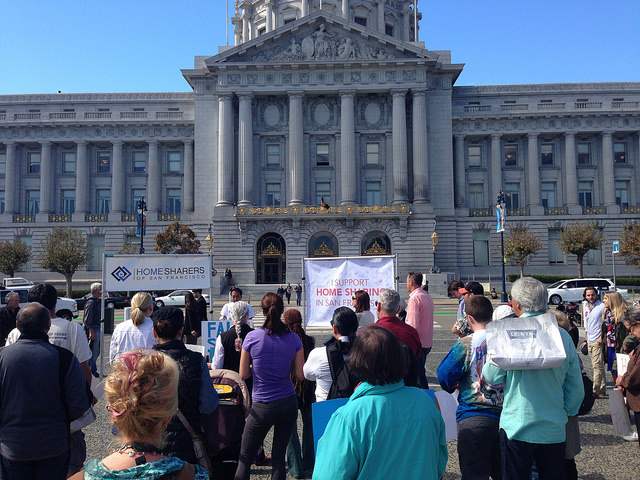 Supporters of Airbnb held a rally last October to persuade the city to legalize the service. Flickr photo by Kevin Krejci.
Since they live in one of the least affordable housing markets in the country, San Francisco residents are understandably sensitive to housing affordability. However, they are quick to blame high housing costs on everything but the real culprit. If it's not Airbnb, it's the Google, Apple, and Facebook buses taking people to work in Silicon Valley.
The reality is that San Francisco housing was expensive before Silicon Valley high-tech firms started their own bus services to deal with the Bay Area's ineptly planned transit network. It was expensive long before someone designed a smart-phone app to help vacationers find places to stay in San Francisco. Using 350 homes for vacation rentals hasn't made housing expensive, particularly as there's no guarantee that those homes would be occupied by full-time residents if it weren't for Airbnb.
The Chronicle argues that "a typical year sees just 2,000 new [housing] units added," so "a few hundred units off the market makes a significant dent." No, actually, it doesn't. A much more significant dent comes from the anti-landlord and other regulations that discourage builders from adding more than 2,000 units per year. An even more significant dent comes from the numerous land-use rules in the counties surrounding San Francisco that make sure that only about 16 percent of the land in the nine-county region is available for development.
San Franciscans who truly want more affordable housing should demand that the counties around San Francisco–especially Alameda, Contra Costa, Marin, San Mateo, and Santa Clara counties–all expand their urban-growth boundaries. But that would mean giving up the idea that they can have open space at other peoples' expense without having to pay a cost themselves.