A recent draft environmental impact statement published by the Federal Railroad Administration estimates that it would well over a quarter trillion dollars in capital improvements to make Amtrak "a dominant mode for Intercity travelers and commuters" in the Boston-Washington corridor. Even that is optimistic as the data in the report suggest that Amtrak would be far from dominant even aver spending that much money.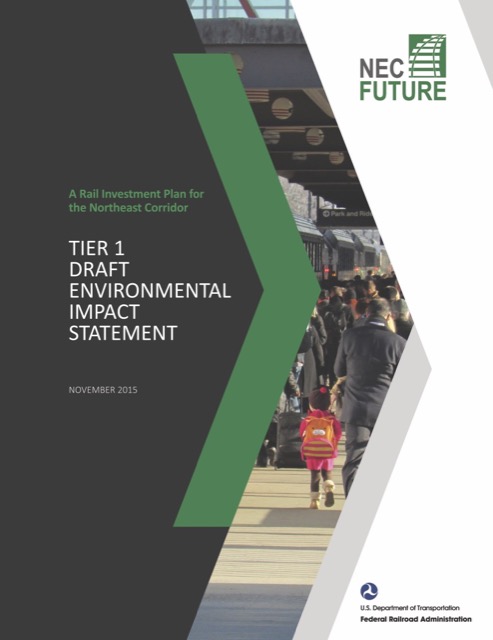 Click image to go to the download page for the draft environmental impact statement, which is downloadable in more than 30 parts totaling well over 30 megabytes.
The statement considers four alternatives:
No action would keep train service at current levels. This would nevertheless cost $19.9 billion in maintenance and improvements over the next 25 years.
Alternative 1 would increase service at a rate equal to the region's population growth. This would cost around $65 billion (the average of a range given in the DEIS), or $45 billion more than No Action.
Alternative 2 would increase service faster than population growth at a cost of around $133.5 billion, or more than double Alternative 1.
Alternative 3 would supposedly make rail "a dominant mode" in the region at a cost of around $287.3 billion, more than double Alternative 2.
Improvements are needed because "The NEC lacks adequate capacity to meet today's demand for rail service," says the document. "Thus, it cannot accommodate the projected demand from growing regional population and employment." Yet estimates of "today's demand" are skewed by subsidies: In 2015, Northeast Corridor revenues were $479 million greater than operating costs, but if the corridor needs $796 million a year in maintenance and improvements ($19.9 billion divided by 25 years), then the corridor loses well over $300 million a year, which is $27 per Amtrak rider. Operating costs also don't include unfunded pension and health care obligations, meaning the total subsidies are even greater. If Amtrak increased fares to cover full costs, the quantity of riders would be lower, possibly much lower, than today.
Amtrak's FY 2015 performance report says Northeast Corridor Amtrak trains carried 11.7 million riders last year, with another 348 million riders carried on commuter trains in the corridor. Under the No Action alternative, Amtrak ridership would increase by 65 percent while commuter ridership would grow 21 percent. These are both much more than the region's projected population growth–about 14 percent–calling into question the claim that huge spending is needed to keep up with growth.
Projected ridership gains from each alternative are far from proportional to expenses. Alternative 1 would increase ridership by another 75 percent above No Action, but as noted doing so would require more than a tripling of capital spending. Commuter ridership under alternative 1 would be just 13 percent more than No Action.
Alternative 2 would attract only 10 percent more Amtrak riders, and just 4 percent more commuters, at double the cost of Alternative 1. Alternative 3 would carry just 5 percent more Amtrak riders and 10 percent more commuters at more than double the cost of Alternative 2.
| | 2015 | No Action | Alt. 1 | Alt. 2 | Alt. 3 |
| --- | --- | --- | --- | --- | --- |
| Intercity trips | 11.7 | 19.3 | 33.7 | 37.1 | 39.0 |
| Commuter trips | 348.0 | 419.8 | 474.5 | 495.4 | 545.5 |
| Capital cost | | 19,900 | 65,000 | 133,500 | 287,500 |
| Incremental cost per Amtrak trip | | 2,621 | 3,132 | 20,147 | 81,053 |
| Incremental cost per all trips | | 251 | 653 | 2,819 | 2,962 |
| Average cost per annual trip | | 45 | 128 | 251 | 492 |
Trips and capital costs are in millions; incremental and average costs are in dollars. Except for the 2015 column, ridership projections are for 2040. The incremental and average costs are capital costs per 2040 trip and do not amortize capital costs over any period; a true cost-accounting would amortize those costs over the expected life of each improvement, which would mostly be 25 to 30 years. However, amortization would leave the relative numbers about the same.
FRA completely ignores the fact that this is a clear case of rapidly diminishing returns. The capital cost of the No Action alternative is $2,621 per new annual Amtrak trip. In other words, the $19.9 billion in additional costs divided by 7.6 million additional annual riders is $2,621 per added Amtrak trip. (These numbers don't amortize the capital costs; they are just used to show the relative cost per added rider of each alternative.)
Figured the same way, relative to No Action, the capital cost of Alternative 1 is $3,132 per additional Amtrak trip; Alternative 2 relative to Alternative 1 is $20,147 per additional Amtrak trip; and Alternative 3 relative to Alternative 2 is $81,053 per additional Amtrak trip. In other words, getting one additional annual Amtrak trip in Alternative 3 costs more than $80,000. Your first clue that this is ridiculous should have come from the fact that Alternative 3's projected capital costs are fourteen times No Action, yet it would attract barely more than twice as many passengers.
Of course, some of the added cost should be allocated to additional commuter passengers. But, as the table shows, since most increments in spending result in an even smaller increase in commuter trips than intercity trips, the returns to added spending rapidly diminish even if commuter trips are counted.
Calculating average instead of incremental costs, the capital costs under No Action equal $45 for every intercity and commuter trip in 2040. Under Alternative 1, the cost is $128 per trip; $251 per trip in Alternative 2; and $492 per trip in Alternative 3.
Regardless of cost, would a quarter of a trillion dollars make Amtrak a dominant mode in the corridor? Amtrak admits that today it carries just 5 percent of intercity passenger traffic (trips longer than 75 miles) in the corridor. If it managed to increase ridership to Alternative 3's projection while overall travel grew at the rate of population growth, Amtrak's share would grow to 15 percent. That's a significant increase but it hardly makes Amtrak dominant. Amtrak's share would be even less if other travel grew faster than population growth, which has been the historic trend. If a tripling of Amtrak's riders doesn't make Amtrak a dominant player in intercity travel, a mere 56 percent of commuter riders would fail to make Northeast Corridor commuter rail a dominant player in intraurban travel.
In short, this document reveals three things. First, far from operating at a profit, the Northeast Corridor loses hundreds of millions of dollars a year when capital, maintenance, and employment benefits are counted. Second, spending any more than the minimum amount needed to keep Amtrak running would cost a huge amount of money yet add trivial numbers of new riders. Third, given the large losses from current operations, it is even questionable whether we should spend the minimum needed to keep Amtrak running.