The Antiplanner confesses to not be a bible expert, but I don't think Jesus ever said, "Thou shalt steal from thy neighbors so thee can afford to take expensive train rides." But that seems to be the goal of Isaiah, a faith-based group in Minnesota that demands that taxpayers subsidize commuter trains from St. Cloud to Minneapolis.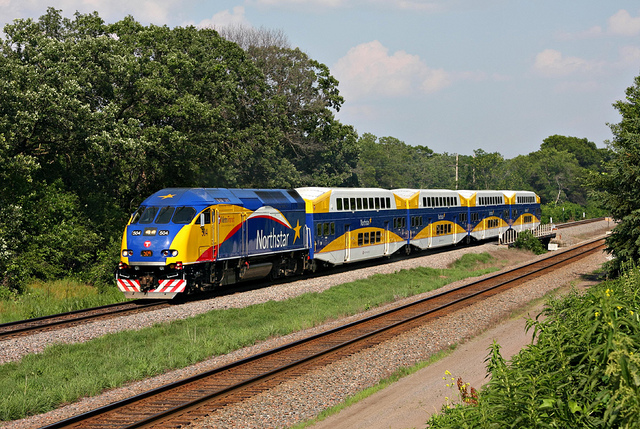 Taxpayers spent $317 million to start the Northstar commuter train, shown here near Big Lake. Flickr photo by Jerry Huddleston.
The Northstar commuter-rail line currently operates over the 40 miles from Minneapolis to Big Lake, about 28 miles short of St. Cloud. The line is a huge loser: it carried an average of around 1,250 round-trips a day in 2014, earning fare revenues of less than $2.4 million but spending $15.2 million on operations and $7.4 million on maintenance.
St. Cloud residents who want to catch the train have to drive or take a bus to Big Lake. But taking a bus is so "antiquated," complains Reverend James Albert, Isaiah's leader. Apparently, they didn't teach much history in Albert's seminary school, or he would know that trains are nearly 100 years more antiquated than buses.
"We feel we deserve the option to not own a car," says Isaiah member Richard Gordon, a student at St. Cloud State University. While no one is preventing him from taking that option, that doesn't also mean that he deserves to have 90 percent of his transportation costs paid for by taxpayers.
Isaiah's original mission was to promote racial and economic equity, which is a worthwhile goal. But it isn't clear how giving white students huge subsidies for their antiquated transportation choices promotes that goal.
The Reverend Albert's seminary school also apparently failed to teach analytical skills. Last year, the group published a report finding that racial minorities who take transit to work spend more time commuting than white people who drive. That's not too surprising, since it is also true that white people who take transit to work spend more time commuting than people of color who drive.
Update: I should point out that, even in New York, home of the best transit system in America, transit riders take 61 percent more time to get to work than auto commuters. In Minneapolis-St. Paul, it is only 60 percent more, so this is situation can't be changed by spending more on transit.
The group's proposed solution to this non-problem is to spend more money on transit. That would make transit agencies happy, but it wouldn't help poor people get to work, since we already know that the transit agencies would blow all the money on expensive trains for white middle-class riders–a policy Isaiah seems to endorse. If Isaiah truly wanted to help poor people, it would start a wheels-to-work program offering zero-interest loans to help low-income people buy a used car.
The Antiplanner extends thanks to faithful allies at the Freedom Foundation of Minnesota for pointing out this story of the confluence of the environmental and Christian religions.