Sacramento's Regional Transit District (RT for short) is facing an existential crisis. The region's transit ridership fell by 22 percent between 2009 and 2014, and preliminary information indicates another 6 to 7 percent decline is likely in 2015. The agency's January, 2016 performance report shows a 9 percent decline from January 2015.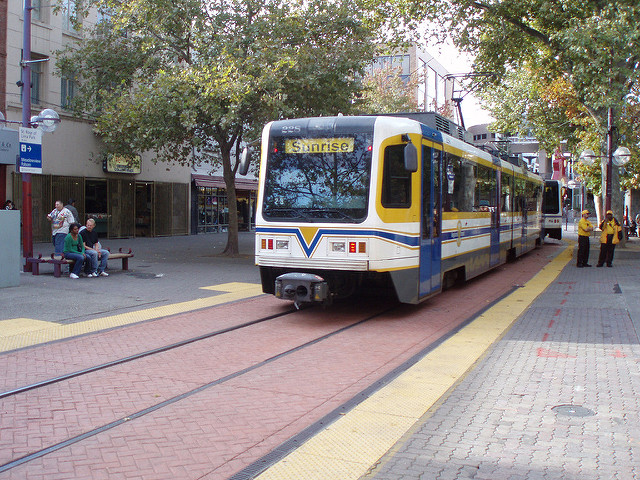 A light-rail train trundles its way through downtown Sacramento. Flickr photo by PaulKimo9.
Some of this downward spiral is due to low gas prices, but much of it is due to an 18 percent reduction in bus service and a 7 percent reduction in light-rail service between 2009 and 2014. Declining tax revenues after the 2008 financial crisis forced these service cutbacks. In turn, reduced ridership means reduced fare revenues, and RT has responded by raising fares, which is not likely to do ridership any good. RT is also thinking about asking voters for a tax increase, but with just 2.7 percent of the area's commuters taking transit to work, support for the transit system may be slim.
Sacramento opened its first light-rail line in 1987, just a few months after Portland opened its first line. As of 2014, Portland's five-line light-rail system carried 38 million trips per year compared with fewer than 13 million on Sacramento's three lines. Sacramento's 43 miles of light-rail lines carry fewer riders than the 17-mile Hudson-Bergen line, Minneapolis' 22 miles, or Phoenix's 23 miles. In fact, Tacoma's 17-mile "light rail" (which is really just a streetcar) carries almost as many riders as Sacramento's rail system.
Most laughably, Sacramento's 1.1-mile Green Line, which opened in 2012 at a cost of $44 million, carries just 400 trips per weekday and doesn't even operate on weekends. This compares with 25,000 riders per weekday on the Blue Line and 21,000 on the Gold Line.
Unmentioned in the news stories is the fact that Sacramento's first light-rail line is 29 years old and thus nearing the end of its expected life. Naturally, rather than spend money maintaining the line, RT is building new ones, having opened an extension to the Blue Line just last August. The 4.3-mile extension cost $270 million, almost as much the system's original 18.3-mile line, which cost $176 million in 1987 dollars or $319 million in today's dollars. RT's ridership report indicates that the extension increased the Blue Line's weekday ridership by just 4 percent compared with the same period the year before, while weekend ridership declined.
Wikipedia says that the original 18.3-mile Blue Line was "more popular than anticipated–in fact, so popular that further expansions and improvements were necessary." That's a joke. In fact, according to the Federal Transit Administration, ridership on that line was only about 60 percent of the original projections. As in the case of so many other cities, the people of Sacramento got conned into building more light-rail lines by transit agency bluster and the promise of "free" federal dollars. Those free dollars are looking a lot more expensive now.