After traveling three days and three nights in coach, I treated myself to a sleeping car on the last leg of my journey to Washington, DC. Most Amtrak sleeping cars have a shower and I appreciated using it after having slept in my clothes for three nights. The sleeping room was clean and everything was functional, but it was, of course, very small. I also noticed that all of the seats in the Sightseer Lounge car swiveled, so I guess the ones on the Coast Starlight and California Zephyr were just rusted in place after all.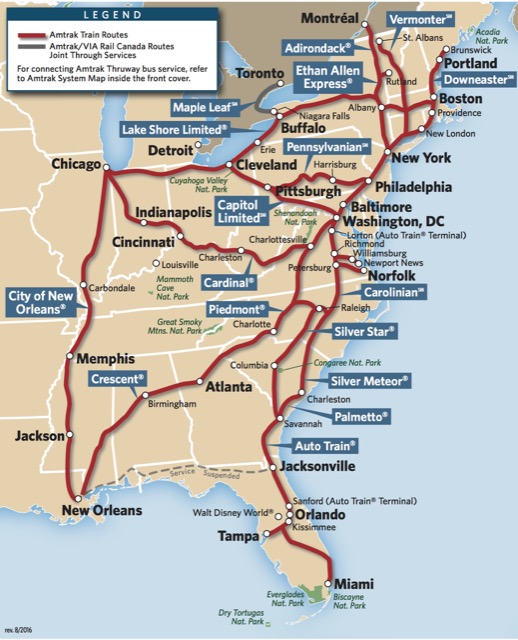 Given that the East has a lot more people than the West, you'd think Amtrak would have more trains connecting the East Coast with the Midwest. In fact, there are the same number of trains from the nation's heartland to the West Coast as there are to the East Coast, which is four–or or three-and-a-half since one on each side of the country goes just three days a week. The eastern trains are the Lakeshore Limited from Chicago to New York and Boston; the Capital Limited from Chicago to DC, the Crescent from New York to New Orleans, and and the three-day-a-week Cardinal from Chicago to both New York and Washington. The Cardinal must attract mainly local traffic as it takes nearly 24 hours to go to DC and 28 to New York compared with 17 to DC on the Capital Limited and 19 to New York on the Lakeshore.
That leaves some big holes in the Amtrak timetable, as there are no reasonably fast trains from Chicago to Philadelphia; the three-day-a-week Cardinal takes 26 hours where the Pennsylvania Railroad once had several trains a day that would do the same route in 17 hours. Amtrak's Broadway Limited used to serve this market, but it was discontinued in 1995. Nor are there direct trains from Chicago to Atlanta, Florida, or the fast-growing cities in the Carolinas. Amtrak's train between Chicago and Florida was discontinued in 1979.
This isn't to say that Amtrak should start these routes. But their absence on the map shows that Amtrak's support of long-distance trains is more for political reasons than for sensible transportation. All Amtrak wants to do is run trains through as many states as possible so it will have a built-in constituency in each of those states ready to write their Congressional delegation in support of retaining the trains. If Amtrak trains are slow, have terrible on-time records, or serve some of the smallest towns in some states, as they do in Idaho and Kentucky, it doesn't matter because the two senators from those states are still likely to support Amtrak's annual funding bill.
Amtrak's reservation systems leaves something to be desired, at least for making train connections. When I looked up going to New York from Emeryville (Oakland), which is the western terminus for the California Zephyr, it wanted to run me down to Los Angeles by bus and train to take the Southwest Chief to Chicago. I thought maybe the California Zephyr was full, so I asked about Seattle to New York. In that case, rather than take the direct route on the Empire Builder, it shuttled me down to Emeryville on the Coast Starlight in order to catch the California Zephyr. The more direct routes were sometimes available, but when I bought my tickets I was unable to get it to offer me a route from Sacramento to DC using the Capital Limited, instead insisting that I take the Cardinal. I had to buy the Sacramento-Chicago tickets separately from Chicago-DC.
So that's my report. Trains were clean and moderately comfortable. Personnel were nice as long as you aren't on a train boarded by your friendly neighborhood DEA agents in the middle of the night. The food was mediocre to lousy and expensive besides. The lounge cars are okay but could be better designed. Sleeping rooms are great if you can afford them but way too expensive for most.
A coast-to-coast journey by train starts at about $232 coach, but around $1,000 with sleeping rooms. Coach is more fun because you meet more people, but far less comfortable. Sleeping rooms are cramped but private and comfortable.
What I didn't learn is why we need to keep subsidizing these trains. I roughly calculate that Amtrak fares cover about 80 percent of costs in the Northeast Corridor, but only about half the costs of long-distance trains. A phrase I heard from many of the people I talked with was that trains were "more pleasant" than buses or planes. But why should taxpayers pay more than a hundred dollars in subsidies per ticket so a few people can have a more pleasant experience? Air travelers can pay the TSA $85 to get a five-year known traveler number that speeds them through security. They can pay the airlines a few extra dollars to ride in the enhanced coach section of planes that has more legroom than ordinary coach.
I may take a trip like this again in the future. But I can't support subsidies to Amtrak when in most markets buses or planes or both are less expensive and often faster and more frequent than trains. With airlines carrying almost a hundred times as many passenger miles as Amtrak, and automobiles more than 300 times in intercity travel, Amtrak's old pointless arrow logo represents passenger trains as a pointless anachronism.