In 1982, the Twin Cities had the 35th-worst congestion in the nation. By 2016, it had grown to be the 17th-worst and amount of time the average commuter spent in traffic had quadrupled. If you are stuck in traffic in the Twin Cities, says this new report, don't blame population growth; blame the Metropolitan Council, the region's metropolitan planning organization.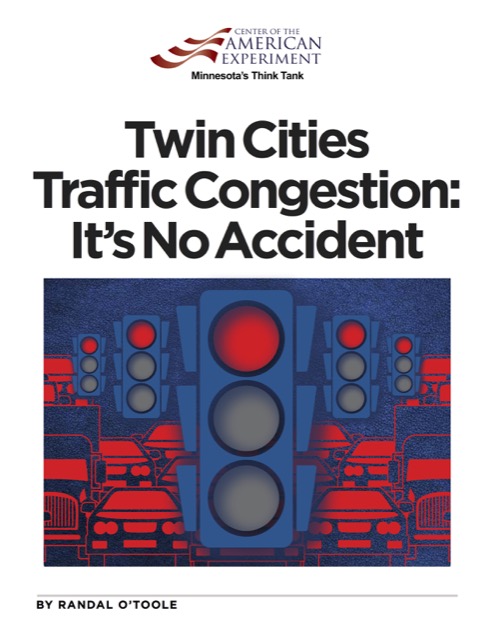 Click image to download a 1.7-MB PDF of this report.
The Metropolitan Council's official attitude is, "We can't build our way out of congestion, so we will provide alternatives to congestion" in the form of light rail, bike paths, and maybe a few high-occupancy/toll lanes. The council's 2040 plan has $6.9 billion programmed for transit improvements, $700 million for bike paths, and $700 million for road improvements. That means 8 percent of the funds goes for the 90 percent of the people who drive to work while 83 percent goes for the 6 percent who take transit.
Beyond providing alternatives, many of the council's policies actually make congestion worse. These include traffic calming, giving transit priority at traffic signals, giving buses priority at metered freeway ramps, increasing urban densities, and complete streets programs that take lanes on busy streets from cars and giving them to bicycles when safer bike routes would have been available on parallel streets.
The council's policies are like a homeowner who says, "I can't afford to restore my house to its original condition, so not only am I not going to maintain it, I'm going to encourage termites to move in to make the house rot away faster."
The Republican-led Minnesota legislature has just passed a new transportation bill that explicitly withdraws state support for light rail and dedicates more than a billion dollars in state general funds (mostly money from sales taxes on motor vehicles) to highways. While that's progress for congestion relief, the Antiplanner would rather see funds come from user fees. The above report suggests that variable road pricing, perhaps through mileage-based user fees, could completely eliminate congestion.
As I've noted elsewhere, road pricing actually increases the capacity of roads to move traffic. We treat our highways like soviet grocery stores, where people stood in line to get what was available and were rarely able to get what they wanted. We should treat them like American supermarkets, where people pay for what they use and don't pay for what other people use.

The Center of the American Experiment, which published the above report, is starting a campaign to make Twin Cities residents aware that congestion isn't accidental, but planned. This campaign includes the above billboard, bumper stickers, and similar publicity efforts aimed at encouraging people to visit MNCongestion.com, where the above report and other documents will be made available.
The Metropolitan Council is unusual among metropolitan planning organizations in that it does not consist of representatives from local governments in the region but is appointed by the governor. The current governor, Mark Dayton, supports light rail and the council's policies, the Center's billboards and bumper stickers take a swipe at him too. Perhaps this campaign combined with the state's recent legislation will persuade the council to change course.