As noted yesterday, the Antiplanner is in San Antonio today. But before leaving Oregon, I visited the Sumpter Valley Railroad for the fall photographer's special. The Sumpter Valley Railroad once carried gold and timber between Prairie City and Baker, Oregon, but shut down in 1947. With help from the Union Pacific, local enthusiasts rebuilt a few miles of it in the 1970s and began tourist operations in 1976.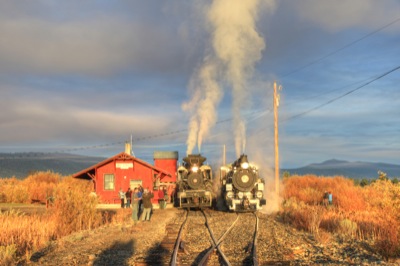 Sunrise in McEwen. Click for a larger photo.
The group operates two steam locomotives, the Sumpter Valley 19 and the Eccles Lumber Company 3. Eccles Lumber was a logging railroad that fed into the Sumpter Valley Railroads; both were founded by David Eccles, an Ogden entrepreneur, in the late nineteenth century. After the railroads shut down, the 3 was used as a stationary boiler by Boise Cascade, while the 19 went to the White Pass and Yukon, which later donated it back to the restoration group.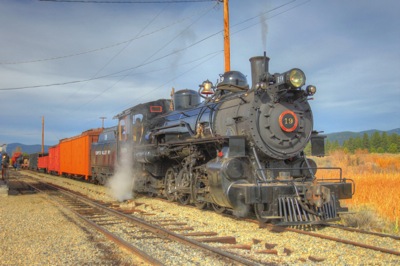 Number 19, a product of the American Locomotive works, in a rare moment when it is not surrounded by photographers. Click for a larger photo.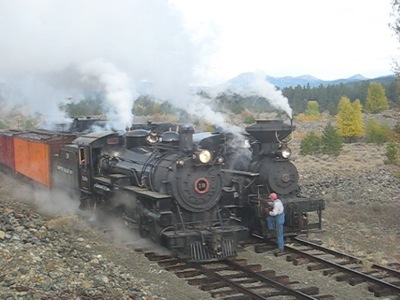 Click to watch of video of #19 passing #3.
The photo tour started at sunrise with the locomotives pulling into McEwen station. We were given plenty of time to admire and photograph the engines before boarding the coaches to go to our first photo spot.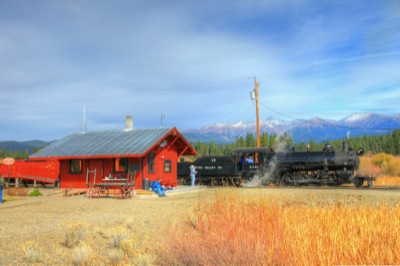 Elkhorn Mountains in the background. Click for a larger photo.
To get from Baker to Prairie City, the rail line had to go over four mountain ranges: the Elkhorns, the Huckleberries, Green, and Dixie mountains. Of course, the goal wasn't really Prairie City but the trees that were in the mountains. To save money, they built a narrow-gauge railway — rails 3 feet apart instead of the standard 4 feet 8-1/2 inches.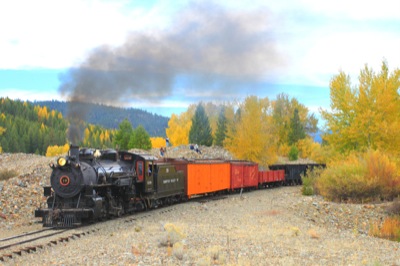 Photographers on a rock pile snap photos as number 19 goes by. Click for a larger photo.
Click to watch of video of #3 whistling through the dredge tailings.
Today, the line is only about 6 miles long, but the restoration group has aspirations to rebuild all the way to Baker (now called Baker City), where lots of potential tourists pass by on Interstate 5. In the meantime, the current routes passes through large piles of rocks — the remains of an extensive gold-mining operation that used a large dredge, which also still remains in Sumpter, supported by its own volunteer group that was kind enough to feed us lunch.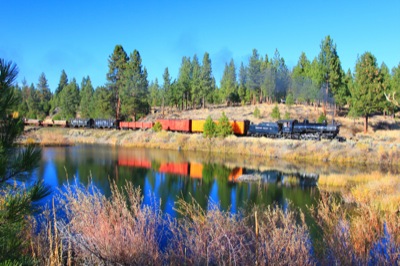 Click for a larger photo.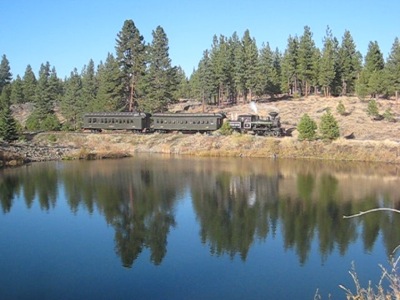 Click to watch of video of #3 passing a large pond.
At each of several photo spots, we were invited to get off the train and find a suitable viewpoint. Then they backed up both trains and ran them by us, often twice each so we could take photos from different angles. Many of the more experienced railfans grumbled when newbies carelessly set up or stood in front of them, but eventually most people learned the concept of being in a photo line or at least staying out of other photographers' view.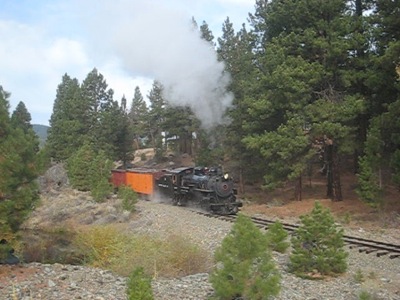 Click to watch of video of #19 passing through the trees.
The 19 was completely restored to operation about 15 years ago, and now its boiler is up for inspection by the Federal Railroad Administration. Every boiler tube must be removed, tested, and then rewelded back into the boiler. The restoration group has experienced welders, but as an all-volunteer group they worry that this could take time. As a result, they expect to operate with just the #3 next summer.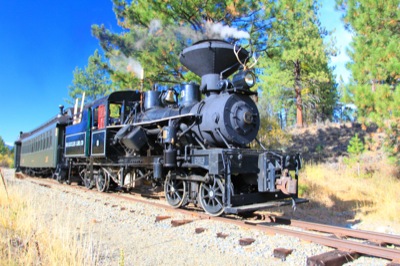 Number 3 is a geared locomotive built by Heisler. Click for a larger photo.
The run-bys continued until almost 4 o'clock, when a tired crew took us back to McEwen Station. Some of them had been up most of the night before getting the locomotives fired up and would be up for awhile longer putting them to bed and getting ready for Sunday's photo tour. The Antiplanner extends them appreciation for a job well done.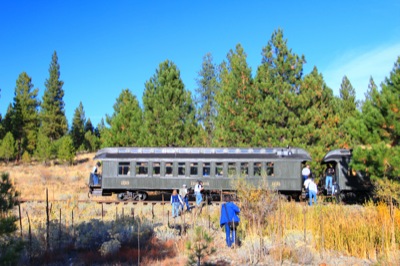 Trudging back to the train after a hard day of photography. Click for a larger photo.