When Obama endorsed the Federal Railroad Administration's 8,600-mile high-speed rail plan, the Antiplanner predicted that rail advocates would not be satisfied with such a small system. For one thing, the FRA system reached only 33 states. For another, as a system of unconnected corridors it failed to connect such key cities as New York and Chicago or Chicago and the West Coast. Although self-proclaimed high-speed rail "experts" say that high-speed rail only makes sense in 300- to 600-mile corridors, the Antiplanner argued that politics would lead Congress to insist that lines be built across the country.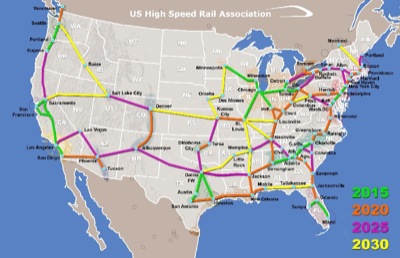 Sure enough, a group calling itself the U.S. High Speed Rail Association has proposed a 17,000-mile network that connects both coasts and appears to reach 43 — possibly 44 (West Virginia is unclear) — states. The route map includes lines from Chicago to Seattle and San Francisco (via St. Louis, Kansas City, and Denver) and Dallas to Los Angeles (via Albuquerque, Phoenix, and San Diego).
News reports indicate that the president of the High Speed Rail Association estimates that this system will cost $600 billion. That works out to $35 million per mile, which is about what Florida estimated it would cost to build high-speed rail across its flat lands (Florida estimated around $25 million a mile, but adjusting for inflation brings it to more than $30 million). But between a third and half of the miles in the system are going to be in some sort of mountains, where (judging from projections made by the California High-Speed Rail Authority) costs will be more than double those on flat lands. This brings the total cost to around $1 trillion, and that's not even counting cost overruns.
Looking at the map makes me wonder if the plan's architects have ever visited many of the routes they propose. Do they really think it makes more sense to go from Phoenix to San Diego, rather than the more direct and lower-elevation route from Phoenix to Los Angeles? Do they really think it makes sense to have a route from Salt Lake City to Seattle, going over the Cascade Mountains and by-passing the water-level route to Portland through the Columbia Gorge? No doubt they would respond by saying this is only a preliminary sketch to be refined later.
Just who is the U.S. High Speed Rail Association? The management team consists of a president, two vice-presidents, and chairman of the board, three of whom are architects. While one VP is an economist, he is the group's lobbyist, which suggests he isn't using his degree much. The group's address is the same as that of an architectural firm run by the group's chair.
The group's web site also lists an advisory board of four, including an urban planner, the head of the Urban Land Institute, the head of an "infrastructure" firm, and the director of the International Union of Railways, a standards-setting organization.
In short, the group is dominated by planners and architects; visionaries who are poorly grounded in the financial facts of life. Not surprisingly, the Antiplanner is not enthused about entrusting $600 billion to $1 trillion to such people.