Ask progressives what they think is the nation's most-progressive city, and many are likely to mention San Francisco. Not coincidentally, the progressive SF Weekly argues that San Francisco is also the nation's worst-managed city.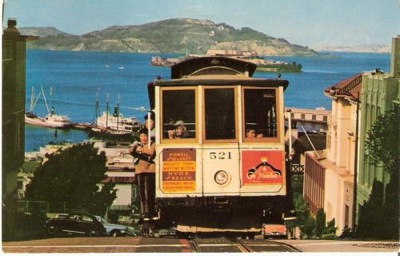 Welcome to San Francisco, where per capita budgets climb halfway to the stars.
The city spends more than $8,000 per capita, compared with less than $7,200 by New York and less than $3,000 by Philadelphia and Denver. The Weekly suggests that most of the difference is waste. (In San Francisco's defense, San Francisco is a combined city-county government and its budget includes a lot of services, such as public transit, not included in Philadelphia or Denver budgets.)
Still, "even other liberal places wouldn't put up with the degree of dysfunction they have in San Francisco," says faithful Antiplanner ally Joel Kotkin. "In Houston" — which both Kotkin and the Antiplanner admire — "I assume you'd get shot" if you did so poorly.
There are a lot of problems with the city, but one of the biggest is public employees unions. Unions were probably important in providing workers with a balance against large corporations. But the potential corruption of unions with the dysfunction of government is a recipe for disaster.
"The intrusion of politics into government pushes the city to enter long-term labor contracts it obviously can't afford, and no one is held accountable," says the Weekly.
This is particularly apparent in relation to Muni, San Francisco's transit agency. "Job protection for even the most obviously unfit Muni workers is among the strongest in the city." When the city tried to reform the transit agency in 2007, the union threatened to spend millions opposing the ballot measure if any union protections were weakened.
"You can't reform the city charter without winning an election," says the Weekly; winning an election requires union support; and unions — almost by definition — don't want major reform." As a result, "San Francisco is constantly on the brink of fiscal ruin."
San Francisco is not the only place where this is a problem, of course. In Portland, that other Mecca of progressivism, the transit agency has granted unions the most generous health care benefits in the industry. As a result, in just a few years, more a third of the agency's entire budget will go to health care.
Meanwhile, the Weekly also complains about San Francisco's housing programs, which offer low- and moderate-income families with housing at below-market rates. Naturally, there are restrictions — not always explained to buyers — on reselling such homes at market rates, but these programs — which would not even be necessary were it not for progressive land-use planning throughout the San Francisco Bay Area — are ripe for manipulation.
Contrary to frequent implications in the Weekly articles, these problems are not due to incompetence. Instead, they are the predictable result of government management of things that can and should be managed more efficiently by the private sector.