Or, more accurately, air trip. Next Tuesday, October 23, the Antiplanner will be in New York City speaking at a seminar described in the ad below. As you can see, the Antiplanner gets top billing, followed by some guy named Steve Forbes.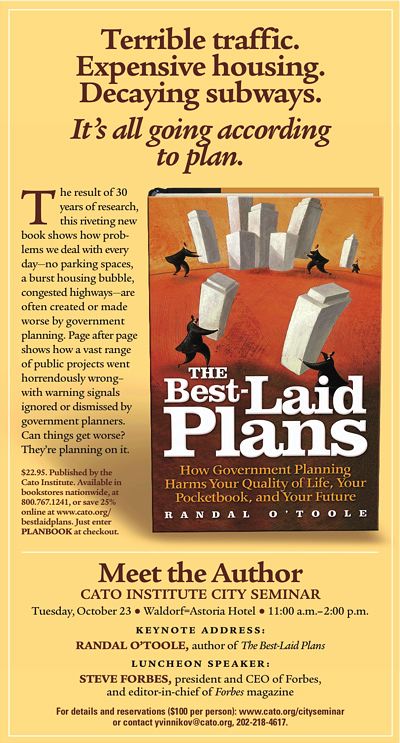 It is easy to understand why the Antiplanner would be billed higher than Forbes. After all, it is not as if he were Steve Jobs. Or even Fake Steve Jobs. Although, as it turns out, Fake Steve Jobs works for Steve Forbes. Go figure.
Anyway, if you are in New York next Tuesday — and have a hundred dollars to spare — come by and see me and, uh, Steve. If you don't have a hundred dollars, but are in Washington DC on Wednesday, October 24, I'll be speaking at noon at the Cato Institute. I'll be joined by the Heritage Foundation's Ron Utt and the University of Maryland's Robert Nelson. Not only is the presentation free, you get a free lunch (not really — you have to sit through the presentation first). Send an email to Cato events to reserve a lunch.
The following week, on Tuesday, October 30, I'll be in Portland at a Cato/Cascade Policy Institute event that will also feature Cascade's John Charles and Oregonians in Action's Dave Hunnicutt. This one will cost you $20 for lunch at the Multnomah Athletic Club.
In-between DC and Portland, I'll touch down in Vancouver BC for a Fraser Institute student seminar on October 27. I'll be talking about my recent report on Vancouver's regional planning. If you live in Vancouver and know of a Neapolitan pizzeria, let's meet for dinner.
All three of my U.S. presentations will feature the ultimate antiplanning book, which I understand was recently reviewed by the Washington Times. I hope the print edition had fewer typos than the on-line version.