Wikipedia defines crony capitalism as an "allegedly capitalist economy in which success in business depends on close relationships between businesspeople and government officials." Crony capitalism has sadly played an important role in state and, especially, local government for just about ever. But Hawaii suffers from a particularly strong case.
Hawaii's history of crony capitalism dates back at least to the mid-1950s. Before then, the future state was run by an oligarchy consisting of the Big Five land-owning companies and a sixth company that was mainly involved in construction. The oligarchy ran the political, economic, and social system of the entire territory in a system that would be considered more feudal than crony capitalistic. Nearly all of the private land in the islands was owned by one of these companies or a relative handful of other families, companies, or trusts, leaving only about 3 percent of the state available for fee simple ownership by ordinary residents.
That began to change in 1954, when reform-oriented Democrats, bolstered by the votes of children of immigrant workers from Japan, China, and the Philippines, took control of the legislature for the first time in the territory's history. Among other things, the Democrats promised land reform so that more land and opportunities would be available to the average person.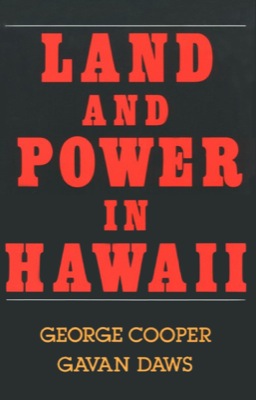 As George Cooper and Gavan Daws showed in their classic 1985 book, Land and Power in Hawaii: The Democratic Years, the main beneficiaries of the reforms imposed by the legislature were the legislators themselves, not their constituents. The Big Five may have lost political power, but they continued to control the land and development by including powerful Democrats in every land deal. Cooper and Daws painstakingly reviewed thousands of development projects and found that traditional developers simply partnered up with the Democrats in deal after deal. In some cases, the legislature would pass a law benefitting one of the oligarchs and, within days, the members of the legislature who worked hardest on the bill would have their names included in a new deal.
One of those legislators was elected U.S. Senator when Hawaii became a state, and today is the second-longest serving senator in history. From his post as chair of the Senate Appropriations Committee, Senator Inouye makes sure that plenty of pork reaches his state.
Evidence of Hawaii's crony capitalism can be seen in Honolulu Mayor Mufi Hanneman's push for a horrendously expensive and totally unnecessary 20-mile rail line that is projected to cost more than $200 million per mile. Since all of Honolulu's electricity comes from burning fossil fuels, the rail line will do nothing to save energy or reduce pollution. But Mayor Hanneman hopes that it will propel him into the state governor's office, for which he is running right now.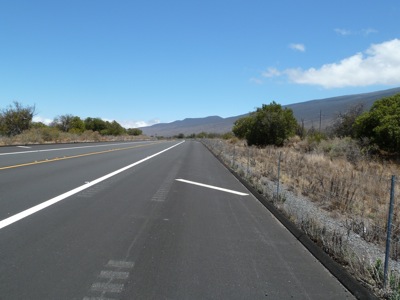 Saddle Road on the island of Hawaii. Click for a larger view.
The Antiplanner may have enjoyed another example of Hawaii's crony capitalism on the Big Island. During a long bike ride from Hilo to Waimea, I could not help but notice that the state was widening the two-lane road into a road that must have been 60 feet wide but was still striped for only two lanes. I certainly enjoyed the extremely wide shoulders that, even with rumble strips, could comfortably fit four cyclists riding abreast. But why did they need so much asphalt when, say, 44 feet — two fourteen-foot lanes and two eight-foot shoulders — would have been more than adequate. Even in the unlikely event that traffic should someday justify four lanes, the rumble strips mean that the state would have to repave them before restriping them. It makes me suspect that this project (described on page 3 of this document) is somehow a gift to local contractors.
Crony capitalism presents a problem for liberals and libertarians alike. Left-wing reforms give government more power, which gives incentives for corporations and the wealthy to manipulate that power to their own benefit, with the result that the reforms have exactly the opposite of the goal of bringing power to the people.
Libertarians believe government should consist of a few basics, such as police and courts, needed to protect people and their property, leaving everything else the private sector. But places with minimal governments — such as America in the nineteenth century — saw plenty of crony capitalism. Meanwhile, Transparency International's corruption perception index lists several big-government countries, such as Denmark and Sweden, among the least-corrupt countries in the world. (The United States is ranked 19; note that the index only measures perceptions of corruption, not corruption itself.)
To the extent that the index is meaningful, perhaps it means that corruption has less to do with the size of government than with the other checks-and-balances built into the government. If so, then someone should identify which checks-and-balances do the most to minimize crony capitalism and push to build those in to our system.