New reports have raised questions about and spurred opposition to California's grandiose high-speed rail plans. First, last April, the California state auditor reported that the state's high-speed rail authority suffered from "inadequate planning, weak oversight, and lax contract management," which is not exactly what you want to hear about an agency that is about to build the most expensive state-sponsored public works project in history.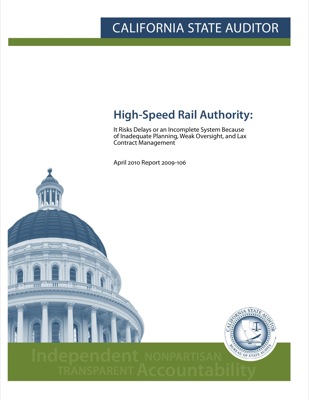 Second, a new report from the University of California found that the state's ridership forecasts "are not reliable." Based on a re-assessment by economist David Brownstone (who is fast becoming one of the Antiplanner's favorite economists) and two UC engineering profs, the fares needed to cover the trains' operating costs would have to be more than double the original projections, which is also more than the cost of flying. Since the measure approved by voters in 2008 forbade any state operating subsidies, such high fares would doom the project.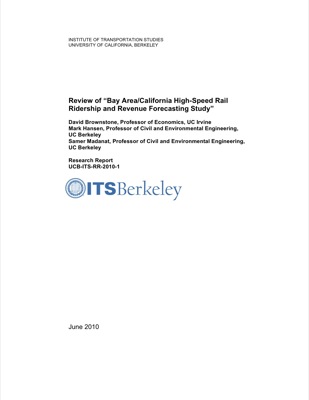 Many questions had been raised about the state's ridership forecasts prior to this report. Of course, the Reason Foundation questioned the numbers as long ago as 2008. More recently, several California groups argued that the state rail authority developed a peer-reviewed model, then discarded it in favor of a questionable model that produced higher numbers. Some groups have gone so far as to sue the state for lying about the numbers.
The University of California report has led several newspapers, including the Oakland Tribune and San Diego Union-Tribune, to argue that the high-speed rail authority has lost its credibility and that the state should "abandon the high-speed train fantasy, spend the $2.25 billion in federal funds on more realistic rail projects and not sell any of the [$9 billion worth of] bonds" that voters approved in 2008.
In response, high-speed rail advocates complain that the media has given so much attention to the University of California report while it supposedly ignored a report from CalPIRG claiming that high-speed rail has been "successful" all over the world. (Update: It turns out the blogger who complained also happened to write the CalPIRG report — something he never mentioned in the blog post that purports to objectively review the report.) The reality is that, as one commenter notes, the press has given high-speed rail a "free pass" until recently, notably ignoring the Reason Foundation critiques when they were published two months before the 2008 election.
As for CalPIRG's report, its definition of "success" is apparently, "if we subsidize it enough, they will come." They note that heavily subsidized trains in selected markets managed to capture market share away from heavily-taxed autos and unsubsidized airlines. They also repeat Amtrak's claims about its share of Boston-Washington travel without mentioning that Amtrak ignores intercity buses, which carry more travelers in that corridor than Amtrak.
In counting "successful" rail lines, CalPIRG ignored the line in China that was recently shut down because it could not compete with slower, lower-fare trains. It also ignored the line in Taiwan that went bankrupt late last year. Nor did CalPIRG bother to ask how much subsidy was needed to make the lines it did consider appear "successful."
Meanwhile, at the federal level, the GAO just published a report arguing that federal high-speed rail plans were hastily drawn up and not well thought out. Unfortunately, the GAO mainly looked at high-speed rail as a part of the stimulus package and not on its own merits. As a result, it missed several important points.
For example, it divides rail into "conventional" (up to 79 mph), "higher speed" (80-150 mph), and "high speed" (150-plus mph). But the critical distinction should be at 90 to 110 mph, which are the maximum speeds that most railroads will allow passenger trains to run on the same tracks as their freight trains. Anything above that, whether 120 mph or 200 mph, will require construction of new tracks that will cost at least 10 times as much as improving existing tracks to run at 90 to 110 mph.
One major problem is that high-speed rail advocates want the public to pretend that capital costs don't count, only operating costs — and then want the public to believe that fares will cover operating costs, when they won't even in the most populated corridors.
Trains operating at top speeds of 90 to 110 mph (meaning average speeds of 60 to 75 mph) will not attract enough riders to make a difference in any market. Trains operating at top speeds of more than 200 mph (meaning average speeds of 140 mph or so) might attract more riders, but their extremely high cost makes them just as infeasible.