A Florida bicycling group tells its members to ride in the middle of any lane that is less than 14 feet wide. An animation explains why doing so is safer for the cyclist and notes that (in Florida, at least) "a cyclist is entitled to use the full width of a lane that is less than 14 feet wide."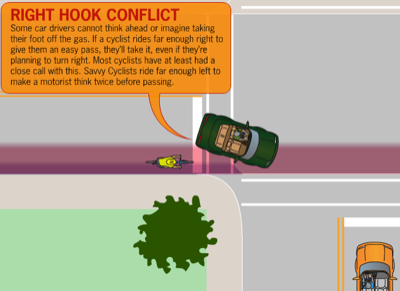 "We ride with traffic, follow the rules, communicate, and move predictably," says another Florida cycling group. "We do not ride on the edge of the road." (The two web sites are so much in lock-step with one another that they were no doubt funded by the same government program.)
I guess this is time for the Antiplanner's annual bicycle rant. As an active cyclist, I am in sympathy with the notion that cyclists are entitled to use the full lane when necessary. But I would never suggest that anyone do so except in specific circumstances. In particular, I would only regularly use a full lane when traffic is slow enough (perhaps because signals are timed to 15 to 20 mph) that I can keep up without delaying other vehicles.
When traffic is going faster than a cyclist can maintain, taking up a whole lane is selfish, politically hazardous, and generally unnecessary. While cyclists dread the thought of being hit from behind, such collisions are very rare. The best available data, which admittedly are somewhat old, suggest that autos hitting cyclists when overtaking them make up less than 5 percent of all auto-bicycle collision. Based on my own experience (which sadly includes several auto-bicycle collisions, all of which took place at intersections), that sounds about right.
The curious thing about the animation is that three of the four possible auto-bicycle collisions it presents are at intersections. The same data indicate that intersections are the location of more than half of all auto-bike collisions. But since major intersections tend to be spaced about a mile apart, is it really necessary for cyclists to hold up traffic for all the intervening miles? I don't think so: Bicyclists can find other ways to avoid those collisions at intersections through such tactics as making themselves visible to drivers and making eye contact before entering the intersections.
Many bike route planners are guilty of the same error as the Florida cyclists: they worry too much about the rare car-overtaking-bicycle accident and not enough about the much-more-common intersection collision. The above photo shows a typical bike lane (the portion to the right of the solid white line) that disappears near the intersection then reappears on the other side of the cross street. In other words, many cities' efforts to protect cyclists end just when the cyclists need the most help.
In sum, cyclists should feel free to take a full lane when they can do so without delaying traffic. They should also move to the center of the lane when approaching problematic intersections if doing so will increase their visibility and prevent collisions. They should also move towards the center to avoid potholes and debris, but only after signaling to motorists that they are moving to the left. A general policy of occupying a full lane is not warranted for safety or other reasons.
Unfortunately, movements such as Critical Mass have given cyclists a sense of moral superiority and entitlement. This self-rightousness comes through when the Florida cyclists try to answer the question, "Bicyclists don't pay gas taxes; why should they be allowed on roads?" (sixth question down). "I pay for the roads when I drive," they say, "so I should get to bicycle on them for free." Yes, and you paid for the gallon of milk you bought at Whole Foods last week, but that doesn't entitle you to take a carton of cottage cheese from Whole Foods this week. "But the Declaration of Independence says 'all men are created equal,'" they sputter. Yes, and you have an equal right (and obligation) to pay for what you use. (The Antiplanner thinks states should dedicate a tax on bicycle tires to bike ways and bike safety programs.)
As the Florida cyclists point out, roads are a public right of way. But not every right of way is available to every member of the public. Most freeways, for example, are closed to slow-moving vehicles, while some streets and other rights-of-way are closed to motor vehicles. Like everyone else, cyclists are subject to the law, and if a relative handful of cyclists unnecessarily clog up the roads, they might find the law changing and not in their favor.
I have always believed that bicycles and motor vehicles are compatible. The real question should be how we can design our transportation systems so both can operate safely. Instead of fighting for space with cars on busy streets, it makes more sense for cyclists to advocate for bicycle boulevards, which are parallel routes used only by motor vehicles for local traffic but signed for bicycles. In most cities, parallel routes are laden with stop signs (to discourage through traffic), which is a major problem for cyclists who don't want to stop and accelerate every block or so.
Unfortunately, the same people who promote bicycle boulevards also promote curb extensions and other forms of traffic calming that are profoundly anti-bicycle. Their real goal is to create an auto-hostile environment, not to promote mobility. Instead of policies that favor one mode over another, transportation policies should focus on safety, mobility, and cost-effectiveness.