Rail transit advocates often claim that new rail lines increase the value of properties near rail stations. While the Antiplanner is skeptical of many of these claims, a new report casts a dark light on such increased property values.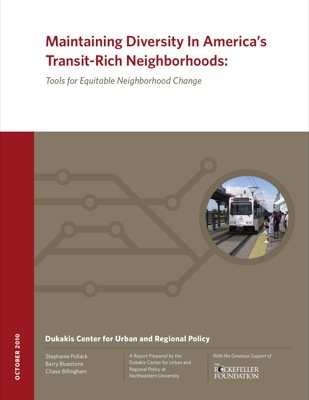 According to this report from the Dukakis Center for Urban Policy (yes, that Dukakis), increased property values push out low-income families that tend to be transit dependent and replace them with higher-income households who tend to own cars. This "undesirable neighborhood change," the report argues, "is substantial enough that it needs to be managed whenever transit investments or improvements are being planned."
Of course, the Dukakis Center's solution is more planning and, in particular, more subsidies to low-income housing. The report recommends that cities use tax-increment financing, inclusionary zoning, and similar "tools" to maintain existing and build new low-income housing.
While the Antiplanner appreciates the insight that increased property values may actually be bad for transit ridership, I find the poor reasoning in this report to be almost painful. For example, one of the report's major "findings" is that there are "three demographic groups who are more likely to use transit and more likely to live near transit than other Americans: people of color, low-income households and renters."
Do the report's authors really believe that people of color are more likely to ride transit than whites whose incomes are the same? Do the report's authors really believe that renters are more likely to ride transit than homeowners whose incomes are the same? The authors cite another paper saying that "Income is the primary determinant of auto ownership, which, in turn, is the main determinant of modal choice." So why do they think race has anything to do with it? The Antiplanner's guess is that they are just trying to maintain support from the liberal Rockefeller Foundation, which funded this report.
Also laughable is the whole thesis that increased property values represent "undesirable neighborhood change." After all, such increases, and the resulting changes in neighborhood character, are the main reasons given for urban redevelopment. Cities want to change the character of neighborhoods they consider "blighted." Since one of the reasons why the neighborhood is blighted is because family incomes are too low to allow property owners to improve it, efforts to keep low-income households in the neighborhood would be counter-productive. (Not that I am defending this view; the Antiplanner generally opposes urban redevelopment of this kind.)
The Antiplanner's experience suggests that rail transit alone rarely leads to neighborhood change (and the few cases that do are limited to rail lines that have huge numbers of patrons, such as the DC subway). Instead, neighborhoods are changed by the tax-increment financing and other subsidies to redevelopment. The Dukakis report would have cities pile subsidies to low-income housing onto subsidies to urban redevelopment onto subsidies to rail transit.
The report goes on at length about "tools" cities can use to protect and promote low-income housing, but it says little about what a neighborhood will look like after such redevelopment. To fit in both existing low-income populations and new higher-income households, the neighborhood will have to have a significant increase in density. But inner-city low-income neighborhoods are already among the densest parts of many urban areas. Will there really be room for the new housing without obliterating the old?
New housing and mixed-use developments will have to go somewhere. Will existing low-income housing be torn down to provide room? Where will the low-income families go in the meantime? Experience from the 1960s urban renewal programs suggests that they will go find housing somewhere else, and when the new housing is built, they won't bother to disrupt their lives again by returning. Many of the low-income people who fill the housing quotas probably won't really be the people Dukakis is targeting. Instead, they will likely be young people just out of college who can expect to earn high incomes but who qualify for low-income support based on their recent history of no or menial jobs.
The Dukakis report cites lots of examples of cities using various subsidies to maintain low-income housing. But it never asks the follow-up question: did the programs really lead to a "diverse" mixed-income, mixed-race community like the authors wish? Or did it just benefit a few smart white households who were in the right place to take advantage of the subsidies?
This is the kind of shallow thinking that characterizes so much planning. Give us tools, the planners say, which often means give us subsidies. After they use the tools they proclaim success without mentioning–and often without even knowing–that they failed to accomplish any of the original objectives.