An Orange line train derailed on Monday as it headed out of Washington DC to the Court House station in Virginia. The cause of the accident is not yet known, but a previous derailment in January 2007 was blamed on "shoddy maintenance."
"Metro's failure to keep up with basic maintenance and refusal to take safety steps recommended for years by internal and external reviews were the likely causes" of that previous derailment, says the Washington Post's summary of the federal investigation into that derailment. Considering that Metro is still well behind in its maintenance program, it will not be surprising if this week's derailment is also due to maintenance shortfalls.
The basic problem, as the Antiplanner keeps saying, is that rail transit is really, really expensive — and those who want to build it rarely take the true cost into account. Not only does it cost a lot to construct, but it costs a lot to maintain because it must be almost completely rebuilt every 30 years or so.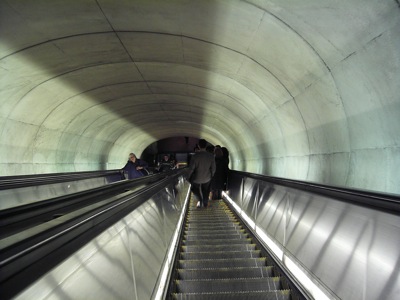 When the escalators break down, Metro can contribute to public health by letting everyone walk up the stairs at Dupont Circle.
Flickr photo by cameraobscura.
According to the National Transit Database, as of 2006 the average age of railcars in Metro's fleet was more than 20 years, and Metro still has more than 200 cars that are more than 30 years old. The agency does not have the funds to keep its elevators, escalators, or other essential facilities running.
Washington's Metrorail system was built with federal funds, but local governments were supposed to fund its operations. No one, however, provided for the 30-year rehabilitation that is now coming due. As noted here previously, Metro says it needs $12 billion to keep the trains running, and — except for hoping for a federal bailout — it hasn't the foggiest idea of where it is going to get it.
As of 2006, Metrorail operations cost more than $640 million and collected less than $400 million in fares, leaving a $240 million deficit. Metro also spent just over $150 million on "capital improvements," which is a misnomer because almost all of it was spent buying replacement railcars.
If we take the $12 billion in deferred maintenance and spread it over 12 years, then Metro's real deficit is close to $1.4 billion per year. One way to cover that deficit would be to raise fares by 350 percent — from the current average of $1.45 to $6.50 per trip.
Deferred maintenance could be one reason why Metrorail's ridership growth is so anemic. In 2005, Metrorail carried 5.1% more passengers than in 2004. In 2006, growth slipped to 3.7%, while in 2007 ridership actually declined by 1.0%. So far in 2008, ridership is 2.3% above this same point in 2007, which isn't saying much considering the high fuel prices.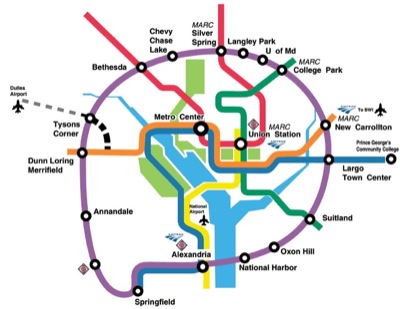 A purple line?
Despite not having enough money to maintain the existing rail system, rail backers want Metro to build an extension to Dulles Airport, not to mention a new purple line, which is supposed to be a light-rail line encircling the district. The first, 16-mile segment between Bethesda and New Carrollton, would cost $1.75 billion, or well over $100 million per mile (twice the cost of the average light-rail line elsewhere and easily enough to build an eight-lane freeway of the same length). Transit officials estimate this line would carry 68,000 people per day — but admit that 80 percent of them are already riding transit, so it won't do much to relieve congestion.
How often in the course of debates over whether to build new rail transit lines have proponents said, "Once a rail line is built, it is there forever." What a pack of liars.