Secretary of Immobility Ray LaHood proudly announced Saturday that the BNSF Railway has agreed to increase Portland-Seattle train speeds from their current average of 53.4 mph to 56.1 mph, saving just 10 minutes (3 hours 30 minutes reduced to 3 hours 20 minutes) over the 187-mile trip. This, said LaHood, is "part of the President's long-term vision to give 80% of Americans access to high-speed rail in the next 25 years."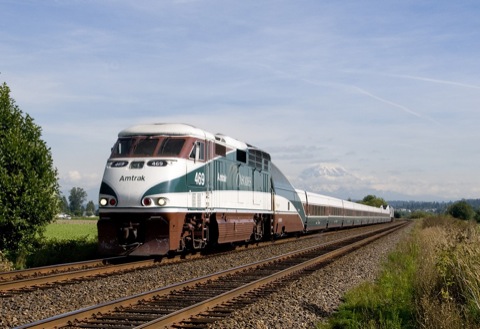 Amtrak Cascades with Mt. Rainier in the background. Photo courtesy Washington State Department of Transportation.
And it is costing taxpayers a mere $590 million. But wait–there's more! You not only get a speed boost of 2.7 mph, you get two new daily round trips, increasing the number from 5 to 7. How can you top this deal?
Amtrak's Cascades trains, which go between Seattle and Portland and continue on to Eugene, carried 836,500 riders in 2010, or an average of 286 riders per train. (This doesn't count the Coast Starlight, which goes from Seattle to Los Angeles.) If the two new trains attract a similar number of passengers, we can expect this $590 million investment to produce about 210,000 new round trips per year.
Operating the Cascades trains cost taxpayers $14.3 million in 2010, or an average of $17 per passenger. At that rate, the new trains will lose about $7.1 million per year. Amortizing the $590 million over 30 years at 7 percent interest results in an annualized capital cost of about $47 million. That means each new rider will cost taxpayers about $130 per round trip on top of the $38 round-trip fare charged by Amtrak.
For the record, during daytime hours Horizon Airlines has half-hourly service between Portland and Seattle at a one-way fare of $70 for a 50-minute flight. That's more than the average fare-plus-subsidy for existing Amtrak trains (about $55 plus some unknown capital costs), but less than half the fare-plus-subsidy for the new riders of the so-called high-speed trains. Greyhound charges about $26 for a 4-hour and 5-minute bus ride. Both of these services are relatively unsubsidized.
The train might be faster than the bus, but absent congestion you can drive from Seattle to Portland in under three hours at a cost (at 35 cents a vehicle mile, which is the average amount Americans spend) of about $60. Divide that by the number of people in your car and you can save lots of money as well as time. Of course, the roads, particularly in Seattle, aren't uncongested, but we would be a lot better off putting that $600 million into something that would reduce congestion instead of something that takes no more than a few hundreds cars off the road each day.
By the way, George Will opines that "the real reason for progressives' passion for trains is their goal of diminishing Americans' individualism in order to make them more amenable to collectivism." I strongly suspect that is true for many progressives, but others have their own reasons for supporting high-speed rail, such as overblown concerns about pollution or needless worries about urban sprawl.
Back to Washington state, BNSF had initially balked at agreeing to run these trains, saying it did not want to be subject to federal rules about on-time reliability. But BNSF also vowed it would not allow any passenger trains to exceed 90 mph on its tracks. The Department of Transportation persuaded BNSF to agree to the performance requirements, but these trains will clearly not go faster than 90 mph; their top speed will probably be just 79 mph.
This is what Obama proudly calls "high-speed trains."