As previously noted, the Antiplanner has been reading a lot of books about the financial crisis lately. Some have tried (but failed) to be comprehensive. Most cover just a slice of the crisis, such as Bear Stearns (House of Cards) or Lehman Brothers (A Colossal Failure of Common Sense)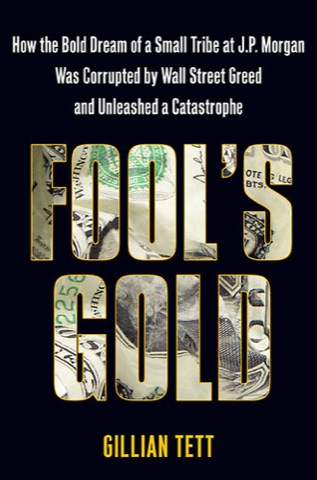 One of the most valuable books of the latter sort is Fool's Gold, which focuses on J.P. Morgan. Curiously, this book has gone through a series of at least four subtitles:
How an Ingenious Tribe of Bankers Rewrote the Rules of Finance, Made a Fortune and Survived a Catastrophe
How Unrestrained Greed Corrupted a Dream, Shattered Global Markets, and Unleashed a Catastrophe
How the Bold Dream of a Small Tribe at J.P. Morgan was Corrupted by Wall Street Greed and Unleashed a Catastrophe
The Inside Story of J.P. Morgan and How Wall St. Greed Corrupted Its Bold Dream and Created a Financial Catastrophe
Subtitle 1 is actually the best description of what this book is about. I suspect it is closest to the one written by the author, while the other three were written by publicists trying to sell more books.
In a nutshell, the story is that J.P. Morgan invented two financial tools that played key roles in the crisis. First, it developed credit default swaps, which allowed banks "to off-load the credit risk" of a loan "without selling the loan" (p. 47). A credit default swap is like insurance in that a bank pays another financial institution an annual fee–typically a small fraction of the value of the loan–for the life of the loan and the second institution repays the loan if the original borrower defaults.
For top quality, triple-A-rated securities, the annual fee for a 30-year loan might be a quarter of a percent. Over 30 years, the insurer gets paid 7.5 percent of the value of the loan. That might seem imbalanced since the insurer could have to pay out 100 percent if the borrower defaults, but only about one out of 330 triple-A-rated securities default in any 30-year period. If an insurer insures 330 such loans and one defaults, it still nets almost 25 times the value of each loan.
Then J.P. Morgan pioneered what came to be known as "synthetic collateralized debt obligations" (51). Instead of insuring each loan, one at a time, it combined hundreds of loans into one security. This was not original, since other banks had been combining mortgage loans into one security since at least the 1980s (53). J.P. Morgan's innovation was to use credit default swaps to insure these bundle of loans.
J.P. Morgan used these tools for loans to corporations. Other banks applied the same tools to mortgage loans. But they failed to adequately account for differences in risk between corporate and mortgage loans.
Most importantly, they misjudged the correlation of potential default rates for mortgages. For corporate loans, the correlation is low: just because General Motors defaults on a loan doesn't mean the General Electric will. For mortgages, the correlation could be very high if, for example, housing prices become very volatile so that suddenly large numbers of homeowners are "underwater" (meaning the value of the homes declines to less than their remaining mortgage).
Under J.P. Morgan's original program, only a fraction of the total bundle of corporate loans–say 7 percent–really needed to be insured because the chance that any more would default appeared vanishingly small. To satisfy regulators, J.P. Morgan persuaded AIG to insure the remaining 93 percent for a very low fee.
AIG initially insured mortgage loans the same way it had been insuring corporate loans. This left it exposed to hundreds of billions of dollars of liabilities when mortgage defaults turned out to be much higher than expected.
AIG actually wised up and stopped insuring mortgage-backed securities near the end of 2005. While there were others who continued to insure them, many banks–Citibank was one–only bothered to insure the supposedly high-risk part of the security (the 7-percent part of corporate loans, though probably a higher share of mortgage securities), and assumed the risk of the remaining supposedly low-risk portion themselves (205). This ended up costing Citibank tens of billions of dollars.
The real moral of the story is that J.P. Morgan and its CEO, Jamie Dimon, truly understood these risks, so it did not go heavily into the mortgage-backed securities market. It was under heavy pressure to do so in 2005 and 2006 because so many other banks were claiming huge profits from such securities. J.P. Morgan's analysts couldn't figure out how they could be earning such profits because they never imagined that the other banks would be failing to safeguard against the risk of defaults (pp. 140-142).
Thus the confusion over the subtitles, some of which make it sound like J.P. Morgan developed highly risky tools that led to the economic collapse. Instead, as subtitle 1 suggests, J.P. Morgan developed tools for minimizing risk that other banks failed to properly apply.
Contrary to subtitles 2, 3, and 4, greed was not the problem. Greed, after all, is a fact of life, perhaps especially on Wall Street, but that doesn't mean that greed always leads to an economic collapse. It appears that the difference between J.P. Morgan and some of the banks that failed was that J.P. Morgan was run by a young CEO who was familiar with the strengths and weaknesses of these new tools. Other banks were run by older CEOs–Richard Fuld of Lehman Brothers was 10 years older than Dimon and had been CEO of his firm for longer than that of any other investment bank–or people who had never dealt with the risks of asset-backed securities.
Regardless of the subtitles, Fool's Gold provided some important pieces of the puzzle of the economic meltdown. After I complete a few more books, I hope to put all those pieces together.