Nobel-prize-winning economist Joseph Stiglitz's take on the 2008 financial crisis is simple: Free markets are bad; government is good; we need more government. This is, essentially, a reiteration of what is known as the Greenwald-Stiglitz theorem, which states that markets are imperfect, so "government could potentially almost always improve upon the market's resource allocation."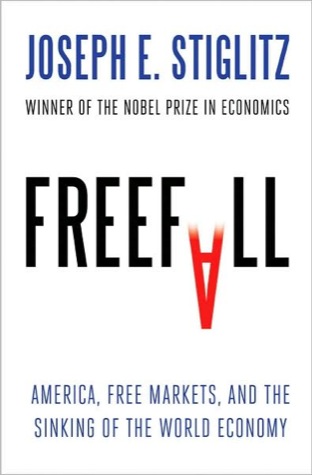 A flaw common to both the Greenwald-Stiglitz theorem and Freefall is that, while Stiglitz goes to great efforts to show that markets are imperfect, he makes no effort at all to show that government will do better. His theorem says government could potentially do better, and another one of his theorems says an "ideal government" could do better, but the real question, which he never addresses, is whether a real, not ideal, imperfect government will actually do any better than an imperfect market.
Freefall makes no genuine effort to analyze the causes of the 2008 financial meltdown. Instead, Stiglitz merely uses it as another example in his case for bigger government. The crisis resulted from the failure of American capitalism, he says, and he dismisses any other explanation (if he mentions it at all) as "sheer nonsense" (p. 10).
Before reviewing Stiglitz's arguments in detail, I have to say this is one of the most poorly written books about the crisis I've read. The publisher must have rushed it into print, because it didn't bother to include an index, which seems essential for an economics book as technical as this one ought to be.
The strange organization of the book makes me suspect that Stiglitz merely took a number of papers he had written and strung them together in one semi-cohesive whole. The first two chapters describe how Stiglitz thinks we got to the crisis. Chapter 3 critiques the Obama stimulus plan. Chapter 4 turns back with more detail about the causes of the crisis. Chapter 5 critiques the Bush and Obama administrations' response to the crisis (making it clear that Stiglitz doesn't see much difference between the two administrations). Though you wouldn't know it from its title, "Avarice Triumphs over Prudence," chapter 6 presents his recommendations for preventing future crises. Then chapters 7 through 10 wander off onto other topics that have little to do with the crisis, instead making arguments for his New Keynesian school of economics.
The three chapters (1, 2, and 4) describing the causes of the crisis provide little more than factoids that could be found in a few New York Times articles (and far less than would be found in various articles in Vanity Fair, which had some of the best coverage of the crisis). The crisis began, says Stiglitz, with a housing bubble (p. 1). What caused the bubble to start to grow? Stiglitz never says, but he argues it was "fed" by "low interest rates and lax regulation" (2). Stiglitz takes it for granted that the bubble was nationwide, never acknowledging that, in fact, less than half of all American housing was affected by the bubble.
The main problems, Stiglitz suggests, were: first, mortgage companies encouraged too many people to get adjustable-rate mortgages when fixed-rate mortgages were better (85); second, bankers had incentives to engage in "excessive risk-taking" (10) and "didn't want to know" about the real risks of their actions (14); third, the ratings agencies failed to tell them about those risks because they had flawed models and merely wanted to earn money for giving AAA ratings to high-risk bonds (92–94); and finally, government regulators were so taken by free-market ideals that they ignored the problems.
Critical to Stiglitz's case against markets is the claim that "all of the banks behave similarly. . . given their herd mentality." This was far from true. J.P. Morgan did not plunge heavily into mortgage bonds. Wells Fargo did not make huge numbers of risky loans to subprime homebuyers. Lots of small banks ended up smelling like roses after the crisis. Some of the institutions that did make mistakes (notably AIG) proved to be "too interconnected to fail," but that's a different problem from the herd mentality that Stiglitz erroneously credits to the banking industry.
As it presents a summary of the problems Stiglitz perceives and his proposed solutions, chapter 6 deserves closest scrutiny. The problems and solutions are:
1. Problem: The banks faced flaws incentives. Stiglitz's solution: "Reform corporate governance" by giving shareholders "more say in determining compensation" (155). That's it? Give shareholders more say in pay? That's going to solve the problem of perverse incentives? Apparently, Stiglitz isn't aware that, of the banks the failed, the main shareholders were the executives who ran the companies, and they in turn were some of the biggest losers from the bankruptcies. Shortly before Lehman's bankruptcy, its CEO's share in the company were worth roughly a billion dollars. He ended up getting $65,000 for the 2 million shares of stock he owned in the company. To make sure employees didn't just focus on short-term profits, Lehman gave out most bonuses in the form of stock that employees weren't allowed to sell for many years. So how will changing pay structure improve incentives?
2. Problem: Lack of transparency. Stiglitz's solution: Insist on mark-to-market accounting and close "dark" capital markets such as those in the Cayman Islands (159-160). Both of these ideas make sense, but banks already practiced mark-to-market accounting before and during the crisis, so this isn't much of a reform.
3. Problem: Unbridled Risk-Taking. Stiglitz's solution: Require banks engaging in high-risk activities to put up more capital, limit leverage, restrict particularly risky products such as credit default swaps, and reinstate Glass-Steagall limits on commercial banking (164). These sound good, but who is to decide what is a "high-risk activity" or a "risky product"? The whole problem with the mortgage market was that almost everyone, including all government regulators, agreed that it was a low-risk market. Credit default swaps were not risky products; they were ways to reduce risk (or at least spread it around). It is easy to say that government should regulate risk, but if you can only see that something was risky in hindsight, then government can't do any better than the market.
4. Problem: Too big to fail. Stiglitz's solution: "Preventive action. The government needs to be able to stop the too-big-to-fail, too-big-to-be-resolved, and too-intertwined-to-be-resolved situations from arising" (168). Well, duh. But just how is government supposed to do that? Place a limit on the size of banks? Place a limit on the number of financial institutions each bank can be "intertwined" with? Stiglitz doesn't say, and any way I can imagine government might try would be actually counterproductive.
5. Problem: Risky innovations such as derivatives. Stiglitz's solution: "Derivatives should be limited to exchange-traded transactions" (no "over-the-counter" transactions), and "exchanges have to be adequately capitalized." The problem here is that every major financial crisis involves some new instrument that didn't exist before. As the Antiplanner has noted before, bureaucrats regulate to prevent the last crisis, but don't have a clue what to do about new financial tools that were created since then.
6. Problem: Predatory lending. Stiglitz's solution: A "Financial Products Safety Commission [that would] identify which financial products are safe enough to be held by ordinary individuals" (176). In other words, some government agency will tell you whether you can get a fixed-rate or adjustable-rate mortgage. Other than the fact that it is not likely that some government bureaucrat knows my needs better than I do, this proposal is going to stifle financial innovation, which is ironic considering Stiglitz's next problem, namely:
7. Problem: Inadequate competition suppressing innovation. Stiglitz's solution isn't really clear. He argues that "much of the innovation of the financial system has been designed to circumvent accounting standards" (181), but "a better-regulated financial system would actually be more innovative in ways that mattered" (182), presumably because that innovation would be done by altruistic government bureaucrats, not greedy bankers.
In short, the remedies in Stiglitz's chapter 6 all have one thing in common: a childlike faith that mommy and daddy will always know best. This is in sharp contrast to chapter 5, which is a diatribe against the evil, ignorant, and greedy government officials in both the Republican and Democratic administrations of 2008-2009.
Having used the first 6 chapters to show how the crisis proves we need bigger government, Stiglitz turns in chapter 7 to all of the other wonderful things bigger government could do for us, such as reducing income inequality, promoting innovation, and preventing exploitation of downtrodden workers. Stiglitz presumes his readers are fully aware that all these problems are due solely to unbridled free-market capitalism. Chapter 8 looks at globalism, arguing we need both global regulation and a global reserve currency. Chapter 9 is a diatribe against free-market economists, whose ideas should be suppressed so people never make the mistake of deregulating the economy again. The final chapter has lots of pretty words about sustainability, community, and incorporating carbon emissions and happiness into our measures of GDP.
Stiglitz is no exception to the rule that everyone views the crisis through the lens of their preconceived notions. The Antiplanner has made no secret of the fact that I am guilty of this as well. But at least I am trying to get as many views as possible before I form my final conclusions about the crisis. I'll share those conclusions with you soon.