Saturday, the Antiplanner spoke in Damascus, Oregon, a rural community on the fringe of the Portland area that Metro planners have targeted to become a dense, New Urban city of 100,000. The residents of the area are none too happy about that and have been fighting it by passing initiatives preventing the city from cooperating with Metro.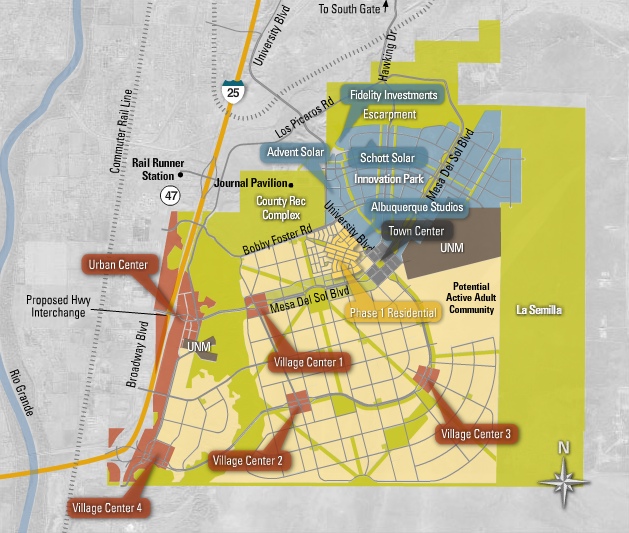 Meanwhile, I've been intrigued with a similar situation in New Mexico: Mesa Del Sol. This is 12,900 acres of formerly state-owned land adjacent to (and recently annexed into) Albuquerque. The state and city hired Peter Calthorpe to plan a New Urban community, and then picked Forest City, a national developer that specializes in mixed-use projects, to develop the area. Fortunately for Forest City, the area had no previous residents to protest the development.
Normally, in a master-planned community, the developer installs all the infrastructure (roads, water, sewers, parks, etc.) and then covers the costs out of sales or fees from property buyers. In this case, however, Forest City asked for some huge subsidies through tax-increment financing to make the project feasible.
The city agreed to give Forest City two-thirds of all property and sales taxes it collects from the development over the next 25 years, while the state will give the company three-fourths of state tax revenues (New Mexico calls its sales tax a "gross receipts tax"). "It's like Stapleton, with a twist," says one of Forest City's brochures. Yes, Denver's Stapleton Airport redevelopment project received only $294 million in TIF subsidies, while Mesa Del Sol's taxes are estimated to return about $500 million to Forest City.
Measured by the amount of subsidy, some say this makes Mesa Del Sol the largest TIF project in the nation. Curiously, the New Mexico legislature did not authorize this kind of a TIF project until 2006, but once it did so, the city and state decided to start big.
Of course, Mesa Del Sol will require fire protection and other urban services that normally would be paid for out of property and sales taxes. Most of the funding for these activities will have to come out of someone else's pockets.
When finished, Mesa Del Sol is supposed to have as many as 37,500 homes housing up to 100,000 people. That's a subsidy of more than $13,000 per home. Of course, the neighborhood will also have offices and shops that will share in the subsidies. On the other hand, this doesn't count the subsidies to New Mexico's expensive RailRunner commuter train, which will stop at Mesa Del Sol.
Just why is it so important to pack people in that New Mexico needs to subsidize this kind of density? After all, it is not as if New Mexico is running out of open space. Moreover, the whole point of New Urbanism is supposed to be that it is more efficient than low-density development.
Compare Mesa Del Sol with one of the Antiplanner's favorite master-planned communities, Sienna Plantation. Occupying slightly fewer acres (10,500), Sienna is expected to eventually have about 8,000 homes housing around 20,000 people (currently it has about 5,500 housing about 12,000). Thus, the densities are about a quarter of those of Mesa Del Sol. Yet, far from requiring subsidies, all of Sienna's infrastructure costs are paid for by homeowners and other property buyers.
Will Mesa Del Sol residents drive a little less than those of Sienna Plantation? Maybe, but that is far from certain and even if it is true it isn't clear if it is really a good thing. The Diesel-powered RailRunner, after all, emits plenty of CO2 by itself.
Mesa Del Sol is simply a scam on the part of Calthorpe and Forest City. Next time the state of New Mexico has some land it wants to develop, it should just sell it to the highest bidders and let them decide how to develop it.