Architects, even New Urbanist architects, seem to love a parking garage recently built in Miami. In the video below, Andres Duany–the Antiplanner's favorite New Urban architect–praises the garage as being as "beautifully designed a place as any piazza."
In fact, Duany adds, "it is a piazza; it's a public square in the air" where you can have a party, conference, ball, festival, or revolution. "I very much appreciate this, not only as a work of architecture but as a work of civic activism."
What makes this garage different from ordinary parking garages? For one thing, it is a "mixed-use" project with retail shops on the ground floor (which is typical for parking garages), and a restaurant and penthouse apartment on upper floors (which is not typical). But I suspect what makes designers most excited is the variation in ceiling heights, from 8 to 34 feet. As difficult as it may be to believe, the high ceilings of some floors make them attractive for weddings and similar events.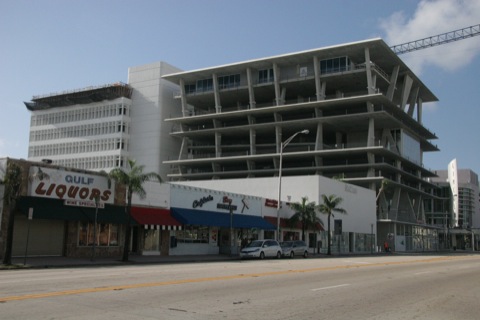 Flickr photo by Joevare.
The concrete architecture blends in with neighboring buildings, but it is likely that the same concept of turning garages into public spaces could be applied to other architectural styles. Of course, some New Urbanists would probably object to any parking garage on principle. But if Duany is happy and the client that built the garage is happy, then the Antiplanner is happy.