The Texas Transportation Institute has published its 2011 urban mobility report, and this year it is based on real measurements of actual congestion rather than formulas. According to the report, in 2010 the nation's worst congestion was in Washington, DC, where the average commuter wastes 74 hours a year sitting in traffic compared with only 64 hours in Los Angeles, which long was rated as having the worst congestion.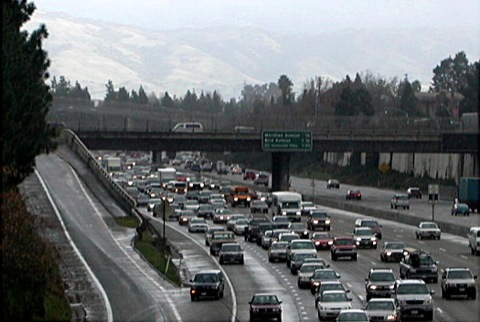 While that's great news for pundits who want to write about how the nation's capital is thriving while the rest of the country is miserable, it doesn't ring true to the Antiplanner. According to 2008 data published by the Federal Highway Administration, the nation's most productive highways are in Los Angeles.
The last column of the above link is labeled "average daily average per freeway," which is short for "average daily vehicle miles traveled per average freeway lane mile." The number for Los Angeles is more than 23,500, while the number for most other urban areas, including Washington, is less than 19,000. That means Los Angeles is managing to push 28 percent more vehicles down each freeway lane mile than Washington.
This productivity boost would be possible if Los Angeles had congestion pricing on all of its freeways. As the Antiplanner has noted before, congestion pricing actually increases highway capacities during rush hour because capacities are lower when roads are congested. But Los Angeles doesn't have congestion pricing, so there must be some other explanation for increased throughput.
The Antiplanner has always suspected that this explanation is that Los Angeles highways are congested for more hours of the day than highways in other cities. In other words, instead of having a rush hour in the morning and one in the evening, Los Angeles has four or more rush hours in the morning and four or more in the evening. One reason why Los Angeles freeways are so heavily used is that it has the fewest miles of freeways per capita of any major urban area.
So, with all due respect to TTI, this report's numbers, even with on-the-ground verification, should still be viewed skeptically. On the other hand, the report rates Los Angeles as having the worst "travel time index," which is the amount of extra time you have to budget to get anywhere over what it should take in free-flowing traffic. If the travel time index is the best measure of congestion, it is interesting to note that the nation's third-worst congestion is in "keep it weird" Austin, Texas (which is tied with New York and San Francisco by this measure).