The Antiplanner spent the last couple of days at the annual meeting of the California Bus Association, which left me unable to post as I was too cheap to pay the hotel $9.95 per day for Internet access even though the nice people at the Bus Association would probably have covered the cost. In any case, I learned a lot at the meeting that I'll probably comment on in future posts.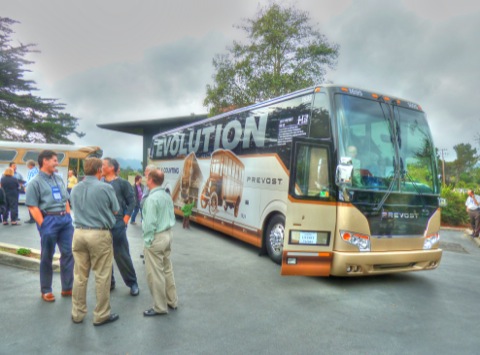 I've never been to a bus association convention before, but my impression was of a thriving, growing industry. Hundreds of different companies offer scheduled and charter bus services; there are quite a few different manufacturers; and new buses feature intriguing technologies including adaptive cruise control, vehicle stability control, and on-board fire detection and suppression. Moreover, the market is rapidly shifting in an endless series of buy-outs and mergers. It felt more like Silicon Valley than a nearly-100-year-old industry that had been in decline from before 1980 to some time in the last decade.
Yet, as someone pointed out, when most people think "bus" they still think Greyhound (or, more likely, city transit buses). So people were talking about raising $3 million for a national marketing campaign to make people think about buses both for individual and group travel.
The campaign would help politically too. The Antiplanner calls intercity buses the forgotten mode because they are largely ignored when people inside the beltway offer billions in subsidies to Amtrak, high-speed rail, and so-called essential air service. Per passenger mile subsidies to Amtrak are at least 100 times as great as subsidies to buses.
The bus industry would like "parity," meaning either that it gets subsidies just as great as Amtrak or Amtrak subsidies are ended. Of course, the Antiplanner prefers the latter solution, which would greatly accelerate the renaissance of the bus.