The American dream of families owning their own homes has become a victim of class warfare, with the middle class attempting to suppress homeownership among the working class and other people they view as undesirable neighbors. That, at least, is one of the major themes of American Nightmare: How Government Undermines the Dream of Home Ownership, which the Cato Institute will publish next May.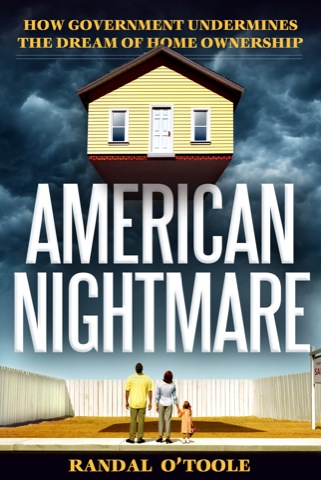 The Antiplanner's work on this book is the major reason why I haven't posted as regularly this year as in previous years. I began research for the book in January, started writing in July, and submitted the final manuscript to Cato on November 4. Though this was my third book since starting this blog, it was the most time-consuming because it required so much new research and analyses.
A large part of the book deals with the role of housing in the recent financial crisis. Other parts look at tax-increment financing and other issues that I've covered in this blog or other papers. But the topic of middle-class vs. working-class housing is fairly new. For the purpose of this book, I define "middle class" as people with jobs that pay a salary and usually require college educations while "working class" refers to people with jobs that pay wages and depend on physical labor or repetitive activities.
Homeownership was originally not an American dream but an immigrant dream. In the late nineteenth century, homeownership rates among the urban middle-class (who were nearly all native-born Americans) were very low, probably less than 10 percent. Homeownership rates among the urban working-class (many of whom were immigrants) were much higher, probably at least 25 percent.
Working-class families saw a home as a potential source of income, whether by taking in boarders, growing livestock and vegetables in the yard, or taking in sewing, laundry, or other home businesses. Middle-class families saw homes as merely a place to live, and in the absence of land-use regulation, they had little incentive to buy a home because they feared their neighbors might be a factory, store, or–shudder–a working-class family and their boarders and associated businesses.
Revelations about the sad living conditions of the poorest of working-class families, particularly in New York City, led responsible members of the middle-class to ask two questions: First, how could they improve living conditions for the poor? And second, how could they make sure the poor don't move in to middle-class neighborhoods? Not surprisingly, the second question was answered first.
Initially, protective covenants in some developments required that houses be built to certain standards that made their cost prohibitive to the working class. Later, the "benefits" of such standards were extended across entire cities through zoning codes, which being written by the middle class often included restrictions on boarders, backyard livestock, and in-home businesses. As a result, middle-class homeownership rose dramatically between 1900 and 1930, but working-class homeownership probably declined, at least through 1920.
After World War II, rising working-class incomes leveled the playing field. By the mid-1960s, working-class incomes were a little less than middle-class incomes, but working-class families often lived in similar homes, drove similar cars, and had many of the same amenities such as televisions, phones, and indoor plumbing. But that didn't make everyone middle class: working-class people had and have distinctive tastes. As sociologist Bennett Berger wrote in 1969, "it is a great mistake to equate an income which permits most of the basic amenities of what the middle class calls 'decency' with becoming middle class."
Not coincidentally, the War on Sprawl began about this time. This is a step some readers will find hard to accept, but American Nightmare interprets the war on sprawl as a continuation of the middle class's war on working-class homeownership. As Berger presciently noted in 1960, "Status groups respond to the clamor by money for prestige by tightening their entrance requirements." They do so by "designating such economic possessions 'vulgar' and asserting the indispensability of a particular style of life—that is, something that cannot be immediately purchased with no down payment."
By using urban-growth boundaries and other policies to make housing more expensive, the middle class could once again make homeownership an exclusive status symbol. Of course, they didn't think of it this way; they liked to believe they were protecting the environment. Yet there was and is a strong underlying belief that only educated people like themselves could appreciate the advantages of suburban living, while less-educated people should be penned up in dense cities lest they drive noisy cars in suburban neighborhoods or off-road vehicles in nearby rural areas.
The War on Sprawl is, above all, an aesthetic war. It isn't about land, which is superabundant in this country; nor is it about driving, the environmental effects of which can be reduced through improved technology to near-negligible levels. Instead, it is about supposedly ugly strip developments and so-called ticky-tacky homes, problems that can theoretically be prevented with land-use planning and architectural design codes that make housing so expensive that only people with salaried jobs can afford to buy homes.
American Nightmare tracks all of this history in detail, beginning before the American Revolution and continuing up to the 2008 financial crisis. The book is 92,000 words long, which makes it a bit longer than Gridlock's 82,000 words but not as long as Best-Laid Plan's 114,000. The book can be pre-ordered from various on-line dealers, and of course the Antiplanner will announce when it is published.