Today, the Antiplanner is in North Carolina, where transit agencies seem to be competing to plan the wackiest, most-expensive rail transit lines that few people will ever use. Right now, the leading contender must be Raleigh, which (according to a paper by UNC-Charlotte transport professor David Hartgen and transit accountant Tom Rubin) is planning a light-rail line that will cost $33 per trip and a commuter-rail line that will cost $92 per trip.
The Antiplanner, however, is in Charlotte looking at a proposed commuter-rail line that is expected to cost more than $450 million to start up and is projected to carry only about 5,600 trips (meaning 2,800 round trips) a day in 2025. The Antiplanner calculates that, for about the same price as the rail line, taxpayers could give every one of the 2,800 riders a brand-new Toyota Prius every other year for the life of the rail project.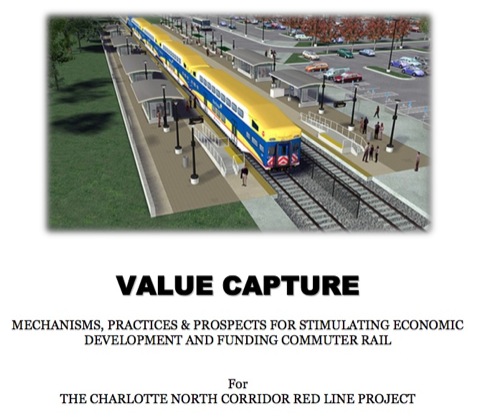 This rail line is such a dog that not even the Federal Transit Administration will help pay for it. So the Charlotte Area Transit System (CATS) is proposing that local cities and counties cover half the costs, while the other half would be shared by CATS and the state of North Carolina. Under a proposed financial plan, five cities and two counties are to use "value capture" to raise their half of the money.
Value capture is based on the idea that new transportation facilities increase the value of properties served by those facilities. Taxes on that increased value thus form a sort of "user fee" to help pay for those transportation facilities. While it sounds reasonable to some, in fact this idea is completely nuts, especially when applied to transit projects such as the proposed commuter-rail line.
The Interstate Highway System increased the value of properties that it served. But it did so by massively increasing personal mobility. The average American today travels about 4,000 miles a year on interstates, all of which is new travel (the average American travels about 15,000 miles a year total by auto today, compared with just 7,000 miles a year in 1960, before most interstates were built, so the 4,000 miles on interstates is all new travel). However, the interstates did not need to rely on "value-capture" since they were paid for more directly by users in the form of gas taxes and tolls.
At 2,800 round-trip riders per day, each rider would have to pay about $44 per roundtrip to cover the capital and operating costs of Charlotte's proposed commuter-rail line. No one is going to do that when the same trips could be taken in a single-occupancy vehicle for about $8. So CATS expects users to pay only about 10 percent of the cost.
To cover half of the remaining cost, CATS proposes that cities use tax-increment financing (TIF) and other special assessments on local property owners. But these won't really capture the value created by the rail line, mainly because the rail line will create no new value.
Unlike the interstate highways, virtually all of whose travel was new travel, virtually all of the 2,800 round-trip riders will not be new travelers but merely be shifting from other modes such as bus or car. If there is no new travel, there is no new value that can be captured to pay for the rail line. Instead, the TIF and other taxes collected would be on property values that would exist even without the rail line.
Mecklenburg County, in which Charlotte is located, is growing at about 3 percent per year. The taxes proposed by CATS would capture the value of this growth, not the value added by the rail line, which is nil. A rail line that carries only 2,800 round trip riders a day (which is about 280 for each of the suburban rail stops) is not going to add much to property values, but even if it were 28,000 riders, at best the rail line would increase the value of property near the rail stations at the expense of reducing (or slowing the growth rate of) property values elsewhere, resulting in zero net value for the region. No one at CATS claims that the rail line will cause the Charlotte region to grow faster or that it will lead to more new travel. Thus, any value-capture taxes will merely leech money away from other property-tax dependent programs.
If the rail line were truly worthwhile, the users themselves would be glad to pay for it. It is only because it is so much more expensive (not to mention less convenient) than the alternatives that users won't pay for it. Asking others to pay based on some mythical "value capture" is simply deceptive.
No matter how it is financed, the commuter-rail proposal is ridiculous. Presentations in support of the project argue that highway traffic in the area is "exploding" (see slide 11; note: Google sign-in needed to download presentations). But the rail line will make congestion worse, mainly by disrupting traffic signal coordination on roads crossing and parallel to the rail line. According to the environmental assessment (60MB), average arterial travel speeds in the corridor in 2030 will be 15 percent slower with the rail line than without it. Based on that alone, the project should be rejected.
The Antiplanner will present these findings to the Town Council of Cornelius, North Carolina at 9 am and to the Lake Norman Transportation Commission at 6:30 pm in Mooresville Town Hall. If you can't attend, you can download a 14-page paper summarizing the Antiplanner's findings.