Vivian Jones was born in eastern North Dakota in 1926. Known to her friends as Red for her brightly colored hair, she was the life of every party and a cheerleader in high school and at the University of North Dakota, where she received a degree in Social Work. She went on to the University of Chicago, getting her Masters of Social Work in 1949.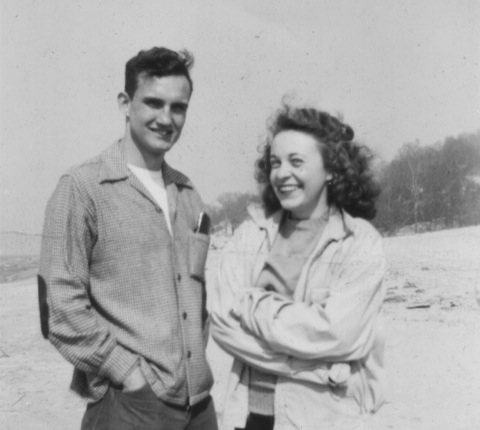 Vacationing at the Michigan dunes with fiancé Bob in 1949.
Also at the university, she met Bob O'Toole, a war veteran and captain of the university gymnastics team. They married in September, 1949, then got in their car and drove to the West Coast. After visiting California, Oregon, and Washington, they settled in Eugene, where Vivian got a job with child services.
After a few years there, they moved to Portland and Vivian started working for Portland Public Schools, a career that spanned three decades. When budget cuts forced the school district to lay off most of its social workers in 1967, Vivian volunteered to work three days a week anyway.
"Social workers have an unwritten agreement that if they take on a task they'll usually take two years," she told an Oregonian reporter in 1968. Since she had started working with several children in 1966, she felt obligated to continue to help them. At first, the school district didn't know how to handle volunteers, but they finally approved her working in October. By March, her example had inspired a dozen more volunteers. Meanwhile, to help support her family, she sold Tupperware on the side.
One Portland student who had been helped by social workers wanted to "pay it forward." He helped Vivian start the School Social Work Campship Fund, which over the years sent scores if not hundreds of underprivileged children to summer camps.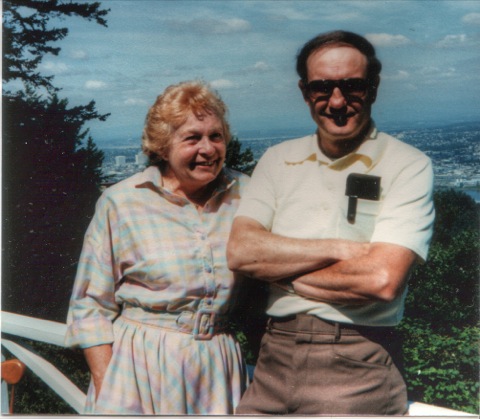 Vivi and Bob in 1987.
When not working, Vivian loved to hike in the Columbia River Gorge, camp in the Mt. Hood National Forest, and walk on Oregon beaches. They also frequently spent summer vacations touring the country and visiting their families in the Midwest. Between 1967 and 1981, they made an annual Christmas trek to Arizona to visit her parents, who had retired in Mesa.
After retiring in the late 1980s, Vivi and Bob toured Europe, played golf, and spent time with her extended family, which included her sister Shirley, dozens of cousins, their sons Randal, Richard, and David, and grandchildren, Ryan and Zoe.
Good bye, Mom. I'll miss you.