Subtitled "How Obama Is Robbing the Suburbs to Pay for the Cities," this book sounds like it is right up the Antiplanner's street (since my home fortunately doesn't have an alley). Stanley Kurtz, a senior fellow with the Ethics and Public Policy Center, argues that Obama intends to forcefully implement the smart-growth agenda in his second term, taking away people's property rights; redistributing income; and forcing people to live in mixed-income communities.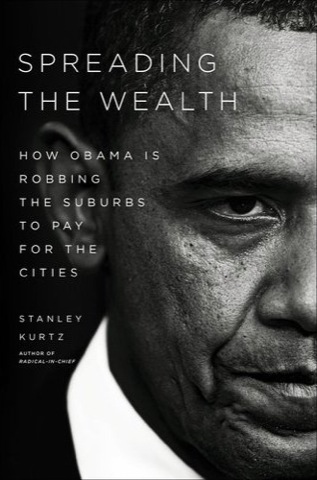 Despite having less than 200 pages of text, the book is documented with nearly 500 endnotes. I agree with many of the arguments Kurtz makes. Yet I find myself repelled by the odor of paranoia that pervades the book. While the author documents particular reports and proposals from various planners and liberal activists, he fails to show that the ideas of people like Myron Orfield or David Rusk are central to Obama's thinking. Instead, he relies on ad hominem attacks and guilt-by-association.
Central to the book is a group called Building One America, whose web site declares itself to favor "inclusion, sustainability, and economic growth," and brags that it was recently "at the White House." According to Kurtz, this group's goals are to put urban-growth boundaries around every metropolitan area; force economic integration, that is, force all neighborhoods to accept residents of all income levels; and redistribute income from high-income neighborhoods and cities to low-income ones in the same region (p. 7).
Many of these ideas come from what Kurtz calls the "regionalist agenda" and in particular regionalists such as former Albuquerque Mayor David Rusk and former Minnesota state Senator Myron Orfield. "The regionalist program for gradually doing in the suburbs has three main components: 1) Redistribute suburban money to the cities. 2) Force middle-class suburbanites back to the city. 3) Force the urban poor out into the suburbs," says Kurtz (p. 39). If you haven't heard about this, it is only because Obama is waiting until his second term to force it on your city.
I find a lot of this to be a stretch. On one hand, the Obama administration has already, in its first term, passed rules and funded state and local programs that seem to support some of these ideas, so I don't see much evidence that they are waiting for the second term. On the other hand, I don't see the regionalist agenda as being primarily about redistribution; instead, both it and the administration's efforts to date focus more on quality of life and environmental issues.
Kurtz makes a few digs at Portland, often cited as a model for the regionalist agenda. But what Kurtz misses is that Portland elected officials and planners have specifically aimed to separate communities by income levels. They have promised that all high-density development, which will be inhabited by newcomers and lower-income people, will be in specific corridors, while neighborhoods of single-family homes outside those corridors will be left untouched. By driving up housing prices, Portland is explicitly increasing economic segregation, just the opposite of what Kurtz argues.
More than anything, this book seems to be a part of an anti-re-elect Obama campaign. The strong focus on Obama's supposed hidden plans that he will implement in his second term, while ignoring much of what his administration has already done in its first term, creates an apocalyptic view: vote against Obama or else.
As a social liberal, I find Obama to be a huge disappointment. He didn't shut down Gitmo; he didn't let up on the war on drugs; he didn't improve relations with Islamic nations; he has accelerated drone warfare; I hope I don't sound too paranoid when I find reports that agencies like the Social Security Administration and National Oceanic and Atmospheric Administration buying tens or hundreds of thousands of hollow-point bullets to be disturbing; and why did he take so long to say he approved of gay marriage?
I also find it disturbing that Obama and others on the left have become such liberal fascists; that is, eager to force their notions of such vague ideas as "livability" and "environmental justice" down other people's throats. At the same time, I recognize that the supporters of these ideas tend to be loose coalitions of groups that have very different motivations, and to attribute any one of those motivations to all of the supporters ignores the complexity of these movements.
Perhaps Kurtz's book would not sell as well if he recognized this complexity. But it would have been more persuasive if he had. As it is, the book should appeal to those anti-Agenda 21 types who think the United Nations is waiting to take our national sovereignty; but it will fail to persuade anyone who is not already an ardent conservative.