The London Telegraph reports that flying is less expensive than taking the train in about half the routes in Britain. This shouldn't be a surprise: trains require far more infrastructure than planes and maintaining that infrastructure is expensive.
Passenger trains in the United States have an advantage over those in Britain: the former share most of their rail infrastructure costs with freight, but rails carry very little freight in Britain. According to data from the European Union, British lorries carry more than 6.6 times as much freight as trains, while data for the United States indicate rails carry at least 120 percent as much freight as the highways.
Partly due to this advantage, but mainly due to heavy subsidies from the state and federal governments, Amtrak fares are lower than airfares for many city pairs. Still, the airlines nearly meet and sometimes beat Amtrak fares in a number of corridors. American Airlines fares between Portland and Oakland start at $79 compared with Amtrak's $80. Delta is $112 between Baltimore and Atlanta vs. Amtrak's $115. Jet Blue is $60 between Los Angeles and Oakland, compared with Amtrak's $56.
A new cut-rate airline called Spirit offers truly amazing prices. As it happens, Spirit's routes don't compete with Amtrak in many corridors, but where they do Spirit almost always wins. From Chicago to Minneapolis, Amtrak wants $102; Spirit $54. From Chicago to Detroit Amtrak wants $32 vs. Spirit's $31. (To get all these prices, I picked a mid-week date–October 17–far enough in the future that prices should be reasonably low.)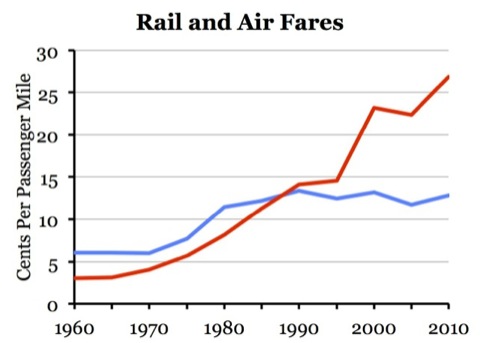 Sources include the Airline Data Project for airline passenger miles and airline passenger revenues; and Amtrak monthly performance reports (I used September reports, which provide fiscal year-end totals). For early years, I used table 3-16 from the 2010 National Transportation Statistics. (For some reason this table is not included in more recent editions of that report.)
Rail has only recently become the high-cost carrier. Before Amtrak took over America's passenger trains, rail fares were only half of airline fares. They remained below air fares through 1985, but sometime between 1985 and 1990 Amtrak fares matched average airfares. They really zoomed upward since 1995 until today Amtrak fares average twice air fares. The difference is even greater because the miles between two points by rail are almost always greater than by air.
The fares are only the beginning of the story, of course. Amtrak collected $1.85 billion in fares in fiscal 2011 but also reported $1.25 billion in losses. That's after state operating subsidies of nearly $0.2 billion, bringing actual losses to 1.44 billion, which is an average of 22 cents per passenger mile. By comparison, federal, state, and local subsidies to airlines amount to around a penny per passenger mile. This means Amtrak's actual costs are more than three times greater than airline costs.