Amtrak President Joseph Boardman scored a point when he announced that Amtrak operates the Rocky Mountaineer, a cruise train that takes passengers from Vancouver to Whistler and the Canadian Rockies. He made this announcement at the September 20 House Transportation Committee hearing about 41 years of Amtrak deficits.
The Antiplanner had offered the Rocky Mountaineer as an example of a private rail operator taking over when the government–in this case, VIA Rail Canada–stops serving a route. VIA ended service on the Vancouver-Calgary route in 1990 (the Antiplanner was on the last westbound train), and the Rocky Mountaineer almost immediately began offering cruise trains. Today this company offers several different routes, including some also served by VIA.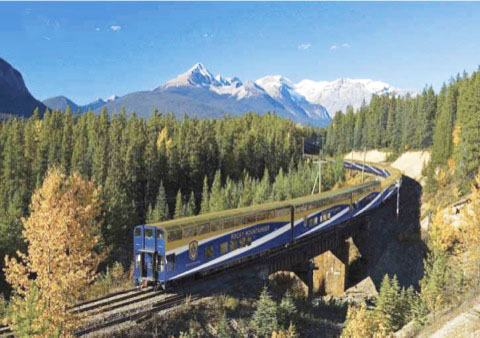 Not operated by Amtrak.
So when Boardman said the Rocky Mountaineer "is actually operated by Amtrak," the mostly pro-Amtrak audience laughed at the Antiplanner's silliness for using this as an example of privatization. The only problem was that Boardman's statement was a slight exaggeration–as in totally untrue.
The Rocky Mountaineer uses its own railcars, hires it own staff, and runs its own locomotives. It negotiated with both Canadian Pacific and Canadian National to run its trains on their tracks. Amtrak has nothing whatsoever to do with any of these operations.
The Rocky Mountaineer also advertises a route from Seattle to the Canadian Rockies which would use BNSF tracks between Seattle and Vancouver. At first, I thought maybe the Rocky Mountaineer had somehow involved Amtrak in this segment, perhaps having its cars towed behind Amtrak's International. But, as near as I can tell, the Rocky Mountaineer only planned to run one round trip on this route in 2012, and I am not even sure it ever happened.
Someone else noticed Boardman's claim and posted a note about it on trainorders.com, bulletin board mostly used by passenger rail advocates. Commenters noted that Amtrak seemed to be clueless about its own operations, and breathed a sigh of relief that Amtrak "dodged a bullet" because House Transportation Committee Chair John Mica didn't know enough to grill Boardman about this claim.
One of the writers added that "there was another goof . . . in the written, prepared statement that Boardman gave," but that he wasn't "giving it away" so rail skeptics couldn't use it. The Antiplanner has reviewed that testimony but hasn't found the error yet. If you find it, let me know–Mica plans to hold more hearings during the post-election lame-duck session.