"U.S. runs out of funds to battle wildfires," misstates a Washington Post headline. "In the worst wildfire season on record, the U.S. Department of Agriculture Forest Service ran out of money to pay for firefighters, fire trucks and aircraft that dump retardant on monstrous flames," continues the article, making two more errors.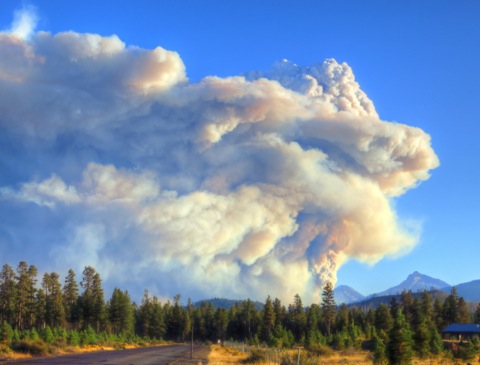 Smoke from the Pole Creek Fire billows above Black Butte Ranch, near Sisters, Oregon, on September 9, 2012.
First, 2012 is hardly the worst wildfire season on record. We only have to go back to 2006 to find a year that had burned more acres, as of October 5, than 2012. Before 2006, several years in the 1930s and 1950s vastly exceeded 2012's number: an average of nearly 40 millions acres a year burned in the 1930s.
Second, no one, least of all the U.S., has "run out of funds." Instead, the Forest Service spent its budgeted amount on fire. This has happened many times in the past, and when it happens, the Forest Service continues spending money on fire by borrowing it from other line items, then expecting Congress to reimburse the borrowed funds. Admittedly, this is, more or less, what the article goes on to say.
What the article doesn't say is that this tradition has grown out of a long history of the Forest Service spending too much on fire suppression. That history began in 1908, when Congress gave the Forest Service a blank check to suppress wildfires. Under this law, the Forest Service could spend as much as it needed on fires with full confidence that Congress would reimburse the funds at the end of each fire season. As far as I know, no other legislature in history has ever given any agency a blank check.
Before World War II, Forest Service officials were responsible enough to actually consider it a badge of honor when they didn't have to draw on this blank check. Between 1908 and 1940, they used it only a handful of times. After the war, however, agency officials were seduced by the notion that the use of aircraft would simplify firefighting, when it actually made it much more expensive (and deadly as lots of pilots and crews lost their lives in aerial accidents). At the same time, many local officials realized they could use the blank check to fill other needs, such as buying new motor vehicles or office equipment. As a result, drawing on the blank check became routine, even in mild fire years. As one firefighter told me in 1979, "the Forest Service fights fires by dumping money on them."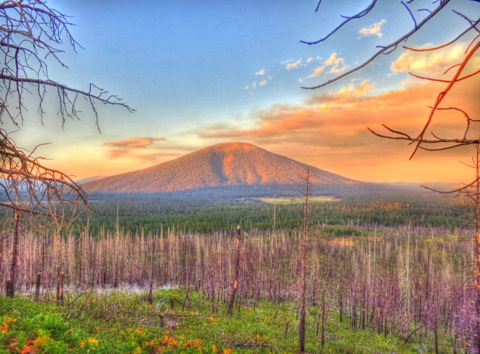 Smoke from the Pole Creek Fire floats over Black Butte, near Sisters, Oregon, on September 12, 2012. Dead trees in the foreground are from the GW fire, which burned in 2007.
In 1980, concerned about the rising costs of fire suppression in a decade with relatively few fires, Congress repealed the blank check law. Since then, it has floundered around trying to figure out how to deal with fire. On one hand, it realizes that giving the Forest Service all the money it says it needs creates the wrong incentives. On the other hand, no member of Congress can stand idly by or say, "Burn, baby burn!" when a fire is threatening homes in his or her state or district.
Under the system adopted in 1980, Congress gave the Forest Service a fixed budget for fire each year and told it to save the surplus in mild years for the bad years. This worked, with the Forest Service making a concerted effort to reduce firefighting costs, until 1988, an especially severe year, when the Forest Service spent all that year's appropriation and all past surpluses. The agency then borrowed money from its reforestation fund to pay for suppression. Congress resisted for several years, but eventually it reimbursed the reforestation fund, thus putting the Forest Service back in a blank-check mode of operation.
In 2009, Congress tried again, creating the Federal Land Assistance, Management and Enhancement or FLAME fund. Once again, it appropriated a fixed amount of dollars each year and told the Forest Service to keep the surpluses in mild years to fight fires in bad years. Unfortunately, after two years when the Forest Service had a large surplus, Congress took back $200 million of that surplus in 2011. As if to teach Congress a lesson, the Forest Service spent all of its budget and whatever remained of the surplus this year, forcing Congress to give the Forest Service a supplemental appropriation of $400 million.
The U.S. Department of Interior (representing the BLM, Park Service, and Fish & Wildlife Service) shared in that $400 million, but it hasn't had the historic "blank check" problems that the Forest Service has had, mainly because Congress never gave it a blank check. As a result, BLM and Park Service fire crews tend to be much more cautious about spending money to put out fires.
Today, the Forest Service supports its profligate spending with the myth that decades of fire suppression have led to huge fuel loads in the forests that make them ripe for monstrous fires. This has also persuaded Congress to fund about 3 million acres of "fuel treatments" a year–thinnings, prescribed burnings, etc.
In fact, this is all bull: as table 6 of this report from a Forest Service research station shows, only about a third of forest lands are susceptible to a build-up of fuels in the event of fire suppression (the report calls these forests "historical fire regime I"), and only 18 percent of these forests (meaning 6 percent of the total) are in "condition class 3," meaning they have been seriously altered by decades of management (or mismanagement). For Forest Service lands only, table 7 says about 28.8 million acres–less than 15 percent of the agency's land base–fall in these categories, while table 8 says less than 6.5 million acres, or 3 percent, of USDI lands are in these categories.
Table 10 of the same report says that less than half a million acres of federal land are in a "high risk class" for fire. Unfortunately, table 10 is mislabeled and doesn't indicate that it only counts acres in the "wildland-urban interface." What this means, however, is that the federal government doesn't even need to treat most of its 35 million acres (28.8 million Forest Service and 6.5 million USDI) that are in historical fire regime I and condition class 3.
Even on that half million acres, fuel treatments may not be optimal. Research by Forest Service scientist Jack Cohen shows that all that is needed to protect homes and other structures is to treat the land within 130 feet of the structures (plus insure that the structures themselves are relatively non-flammable, meaning no wooden roofs).
Of course, as long as millions of dollars a year are available for fuel treatments, the Forest Service doesn't bother with this sort of careful discrimination. Instead, funds are distributed to forests throughout the nation, whether they need it or not, so all managers will have the opportunity to spend some of it.
If fuels aren't really the problem, why are we having such big fires? One reason is the weather: fires have always been bigger during drought years (and for those ready to point to climate change, there were worse droughts and worse fire years in the 1930s than any year since). A second reason is a change in Forest Service firefighting tactics aimed at saving firefighters' lives: instead of putting firefighters up against the fires to control them, it now keeps the firefighters well back of the wildfires and has them set backfires to burn out the fuels before the wildfires can reach them. Of course, the backfires are counted in total acres burned by wildfire even though they were lit by the firefighters.
Few members of Congress understand these issues. But the real problem is that Congress doesn't understand how to deal with natural resources in general–or maybe it does but it wants to be the knight in shining armor, providing unlimited funds to protect local voters from the evils found on the public lands. Ultimately, there is no reason why public lands should not be able to pay for their fire programs just as private landowners do. But that means overhauling not just fire but the entire concept of public land management.
At minimum, this means public land managers should be allowed to charge fair market value for all resources on their land and should fund all of their activities solely out of those receipts. Ideally, a formula would be set to insure that some receipts are left over, i.e. profits, to reimburse the Treasury or some other beneficiaries. Otherwise, Congress should place minimal restraints on public land management, instead letting the market work.
What would this mean for fire? Some forests might benefit from thinnings, prescribed burnings, or other treatments. This would be limited to those forests in "historical fire regime I," and it probably wouldn't even pay to treat all of those forests. Other forests would be worth relatively rigorous fire suppression efforts, and these should be funded out of a combination of retained receipts and insurance. In other forests, simply letting fires burn might be the most optimal solution.
Until such wholesale reforms are made, the Forest Service will always be on the verge of "running out funds" because it will always know that Congress will reimburse it. Only when it is absolutely clear that managers are on their own will they have incentives to find the truly optimal solution for managing their forests for fire and other issues.