The Antiplanner doesn't always agree with Nobel-prize-winning economist Joseph Stiglitz, but his take on the auto bailout makes sense. Too many bailout proponents speak as though the bailout is the difference between life and death for the Big Three. In fact, all it may mean is life or death for the value of the Big Three's shares.
Chrysler ecoVoyager fuel-cell hybrid-electric concept car.
Most of the nation's airlines were in bankruptcy sometime in the past decade — you probably flew one when it was in chapter 11. Shareholders were wiped out, but the planes kept flying and airline workers kept working.
Going into chapter 11 will not put any factory workers out of work. Bailout or no bailout, they'll only be out of work if people don't buy their cars. And it isn't worth $14 billion, or whatever the latest bailout package is, to save shareholder value. After all, the current market value of GM is only about $2 billion, while Ford is $7 billion. Chrysler isn't quoted, but can't be worth much more than GM.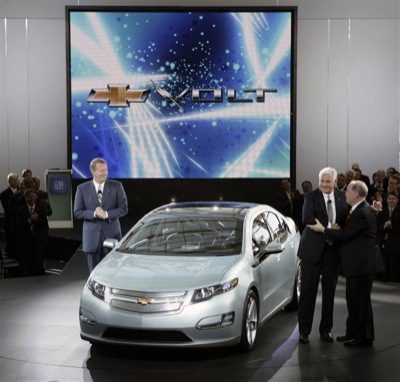 Chevrolet Volt plug-in hybrid, expected to be available for sale in late 2010.
Economist Phil Levy points out that we have two ways to restructure the car companies: "bankruptcy court and the federal government." The companies are likely to more rapidly restructure under chapter 11, Levy argues, than if given billions of dollars that will allow them to postpone any necessary reforms.
Meanwhile, recent research finds that "a surprise deficit-financed tax cut" is do more to stimulate the economy than increased government spending. This is contrary to Keynesian theory, but the reason seems to be that government spending "crowds out" private investment.
As one blogger puts it, "Tax cuts put money into the hands of people who will spend or invest it on things that are economically valuable," while stimulus spending will "divert money out of the market system and into the sausage factory." A European study reaches the same conclusions.
Based on this, some economists have proposed a "temporary payroll tax cut" (see summary here). An increase in take-home pay is likely to do more to stimulate consumer spending than the tax "rebate" Congress gave people last spring.
"How about an immediate and permanent reduction in the payroll tax," asks economist Greg Mankiw, "financed by a gradual, permanent, and substantial increase in the gasoline tax." The problem with that is that, if consumers know they are going to have to pay for their increased take-home pay in higher gas taxes, they might not increase spending.
From Congress' viewpoint, increased spending is better than a tax cut. It might not hasten economic recovery, but it will create a lot of grateful campaign contributors. So we are likely to see an infrastructure stimulus bill soon, but don't expect it to help the economy much.