The Auto Train, which carries passengers and their autos between Virginia and Florida, was a "private failure" but a "public success," says the January, 2013 issue of Trains magazine. For those who don't know the story, the Auto-Train began as a private venture when a Department of Transportation employee named Eugene Garfield took a DOT feasibility study and $56,000 of his own money to begin the service from Lorton, Virginia (outside of DC) and Sanford, in central Florida. When it began service a few months after Amtrak took over most of the nation's passenger trains, the Auto-Train was heralded as a great success, earning a profit as early as its second six-months of operation.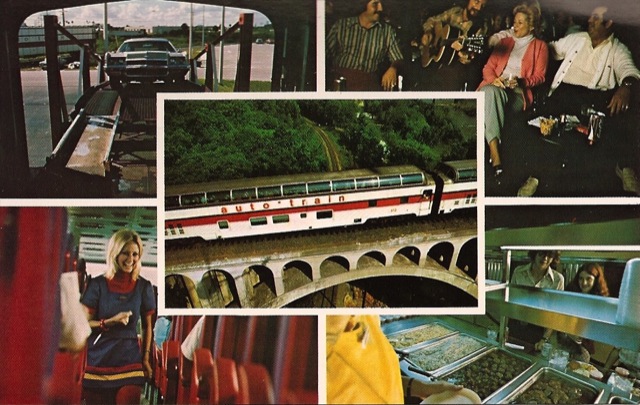 The original Auto-Train.
In 1974, however, Garfield bet the company starting a second route from Louisville to Florida, hoping to capture some of the Chicago market. Even without this failed investment, the profits Auto-Train reported only covered operating costs, not maintenance. As so many railroads have done in the past, it was deferring maintenance hoping for more profits to cover those costs in the future. That deferral contributed to at least two accidents that cost the company millions of dollars. The hoped-for long-term profits didn't happen–Trains reports that it only netted a profit in 1973, '74, and '75–and the company went out of business in 1981.
Pressed by Graham Claytor, Amtrak's legendary president, in 1983 Amtrak began operating an Auto Train, deleting the hyphen, probably for trademark purposes. Today, says Trains, "if you choose to define success as losing the least amount of money per passenger mile, then the Auto Train is Amtrak's most successful long-distance train."
Not surprisingly, the Antiplanner doesn't choose to define success that way. For one thing, the Auto Train is not like other long-distance trains. All passengers get on and off at one of just two stations, so there are no costs of maintaining intermediate stations. Amtrak negotiated special labor arrangements that don't apply to other long-distance trains, so that only one change of train crews is needed on the 855=mile journey instead of the four that would normally be required. Plus a large part of the revenue comes from carrying automobiles (at $175 one way), which don't require beds, food, or other custom services.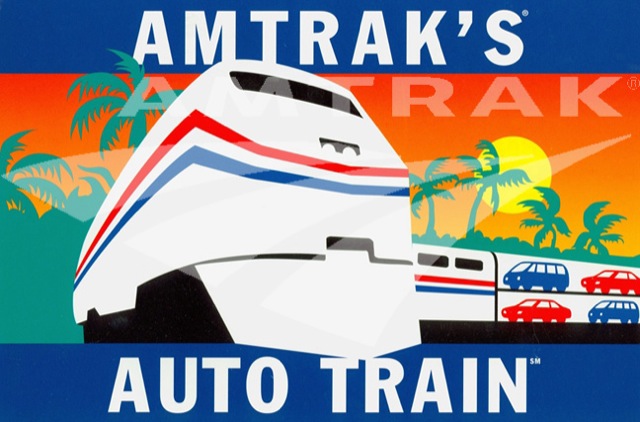 1990s vintage ad for Amtrak's Auto Train.
Trains also notes that Amtrak is not making the mistake of deferring maintenance, fully inspecting each car every three months and doing a complete overhaul every four years. Trains doesn't say how this compares with maintenance schedules for other long-distance trains, but it is worth noting that Amtrak (in violation of generally accepted accounting principles) doesn't count maintenance as an operating cost; it counts it as a capital cost. Even without counting maintenance costs, fares covered only 68 percent of operating costs in 2011.
So the private Auto-Train was a failure because fares covered operating costs in only three out of its ten years of operation and it had to defer maintenance. Meanwhile, the Amtrak Auto Train is a success because fares cover two-thirds of operating costs and Amtrak can dig into Uncle Sam's deep pockets to pay for maintenance. This is an interesting double standard and one that makes little sense from social or economic perspectives.