A year ago, the U.S. Department of Transportation dramatically shut down more than two dozen "Chinatown" bus companies for safety violations. At the time, the Antiplanner expressed skepticism, saying that if the same criteria were applied to transit agencies such as Washington Metro or Boston's MBTA, they would be shut down too. But the DOT said it relied on a National Transportation Safety Board (NTSB) study that found that "curbside" buses were seven times more dangerous than conventional intercity buses.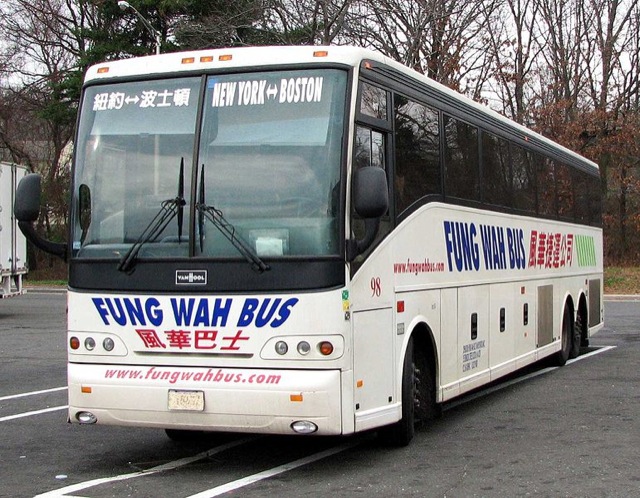 Fung Wah, the original Chinatown bus company, was not one of the ones shut down in last year's federal raids. Wikipedia photo by Toytoy.
Now, some people are challenging this study, saying that its methods were so faulty it may as well have been completely fabricated. The NTSB has a reputation for sound quantitative analysis, but this study was first questioned by Aaron Brown, a Wall Street financial analyst, who accused the NTSB of "statistical malpractice" for improperly manipulating data and refusing to release its raw data. Based on what data were available, Brown estimated that curbside buses were actually safer than conventional ones.
The biggest problem Brown found was that NTSB wrongly calculated accident rates. For each company, it divided the number of fatal accidents by the number of buses owned by that company. Then it averaged them all together. But some companies owned hundreds of buses while others owned only a few, so if one company with a few buses had suffered a lot of accidents (which one did), this method of averaging would skew the numbers very high. The number reported in the press was 1.4 accidents per hundred buses, but in fact the real number per hundred buses was far lower than that.
Working with Brown, Jim Epstein of the Reason Foundation dug even deeper into the study and found even more serious problems. Most important, the study improperly distinguished between "curbside" and "conventional" bus companies. It classified Greyhound, Peter Pan, and Trailways as curbside companies, while it classified Hampton Jitney and New Jersey Transit as conventional companies, when in fact the reverse is true. Of the 37 fatal accidents that the NTSB claimed involved curbside companies, Epstein found that at least 30 in fact involved conventional bus services. Greyhound, for example, was involved in 24 of them.
Even if the companies and accidents had been properly classified and the averages properly calculated, Epstein says, the results would have been useless because the statistical reliability of the numbers was so low that they were meaningless. Although they estimated 1.4 fatalities per 100 buses, they were statistically confident that the real number was somewhere between 0 and 2.7–which means they had no reason to be confident about the number at all.
Another problem not mentioned by Brown or Epstein is that the NTSB study was not even about Chinatown buses but curbside buses. That includes Megabus and Bolt Bus (which is owned by Greyhound and Peter Pan). Megabus was involved in three of the fatal accidents in the study, but no one considers it a Chinatown bus company. By my count, only four of the 37 fatal accidents that the NTSB attributed to curbside companies involved Chinatown-type bus companies.
I have a lot of respect for Megabus for combining the curbside aspect of Chinatown buses with internet ticket sales and on-board amenities such as power plus and WiFi to make a new model of intercity bus service. But I also respect the original Chinatown bus companies and their imitators for providing low-cost bus service that is often aimed at selected ethnic neighborhoods such as Asians and Latinos. For the US DOT to use a flawed study to select out any of these companies in an effort to reduce the competition faced by other bus companies is an abuse of government power.