The momentum is growing for using tollroads, particularly with tolls that vary according to the amount of traffic (congestion pricing), to solve urban congestion problems. New congestion-priced toll roads in Minneapolis and Denver have joined such roads in California, and plans are underway to open more in many other cities and states.
In most cases, the revenue from the tolls goes to pay for the roads. In some cases, a regional tollroads authority collects the tolls and uses them to construct new roads and maintain the existing ones.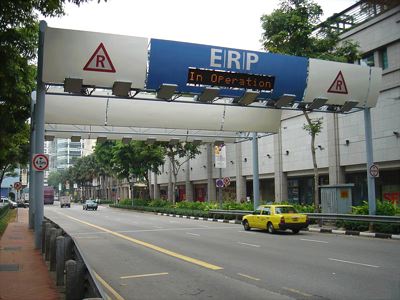 Electronic toll gate in Singapore, which pioneered congestion pricing.
Now a new paper from three members of the UCLA urban planning department suggests that the only way to sell congestion pricing is to give the revenues to the cities. Elected officials are reluctant to charge people for something that has historically been free, they hypothesize. But if cities can fatten their budgets with the money, say the planners, officials will gladly support more tollroads.
This is a very bad idea. While the planners accurately recognize that city officials are as venal as ever, that does not mean we should cater to that venality. It is no more appropriate to do that than for some Mafia to say, "We won't burn down your business so long as you give us all your profits."
The most important virtue of tolls is that they provide a strong link between road users and road providers. As economists have long recognized, prices are not simply a burden on consumers but are information. Prices tell consumers what is abundant, what is scarce, and what the trade-offs are between alternatives. Prices tell producers what people want, what people care less about, and provide immediate information on changes in tastes and needs.
Gas taxes provide a link too, but this link is not as good. Gas taxes don't tell users that it costs more to provide peak-period capacity than off-period capacity. Gas taxes don't tell producers how much different people are willing to pay because they are the same for everyone.
Giving toll revenues to cities may lead cities to build toll roads, but it will also create a slush fund city planners can use for all sorts of more pernicious activities, such as wasteful rail transit or subsidies to real estate developers. A new source of revenue is certain to attract a flock of special interest groups seeking to use the money for themselves. However, the diversion of tolls to other interest groups will diminish motorists' support for such toll roads.
institutionally, the best solution is a regional road authority that can build roads, charge tolls, and spend the revenues exclusively on the roads. Some such authorities have built untolled freeways in an effort to attract people to drive on their toll roads.
Politically, the UCLA planners' paper is twelve years late. In 1992, most people were pessimistic about the chances of building new toll roads in the United States. Congress had legislated against the use of federal funds for toll roads in 1956 and only repealed this law in 1991. Six years later, however, almost no new toll roads had been built.
The success of the SR 91 Express Lanes, which opened in California in 1995, opened people's eyes to the possibilities of congestion pricing. The recent lease of the Indiana Tollway and Chicago Skyway demonstrated the potential of private companies building and/or operating toll ways.
Congestion pricing is an idea whose time has come. There is no need to ruin the idea by using the revenues to buy off city officials, many of whom would use the money on wasteful projects and pork barrel intended to garner campaign contributions from local developers.