Portland's aerial tram carried 125,158 people in February, nearly twice the anticipated 66,000 trips. The tram connects the Oregon Health Sciences University (OHSU) hospital with medical offices and clinics.
That sounds pretty good. However, only 8,184 of those people paid the $4 fare to ride the tram. The $32,736 revenue won't go very far towards the operating costs, which are projected to be nearly $150,000 a month.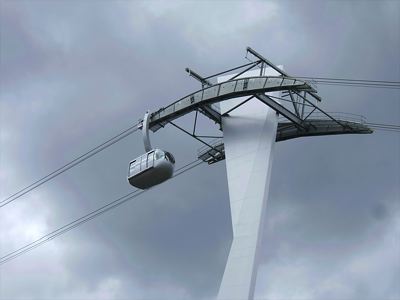 The Oregonian's architecture critic, Randy Gragg, reviews the tram, pointing out that Portland's custom-designed tramcars cost far more than using off-the-shelf equipment. Gragg seems to think it was worth the extra cost. But Portland's tendency to goldplate all of its transit projects have left the city deeply in debt.
That debt is in the form of tax-increment financed bonds. The city sells bonds that will be repaid out of property taxes that are effectively diverted from schools, fire, police, and other services. Such bonds helped pay for the aerial tram, Portland streetcar, Interstate light-rail line, and high-density developments along those transit routes.
The use of TIF to pay for transit pits transit against programs that are normally funded by property taxes. This is beginning to catch up with Portland. A proposal to use more TIF to extend Portland's streetcar line has been criticized by the League of Women Voters, the Multnomah County Commission, and public health agencies, among others.
Light rail and the streetcar have sucked millions of dollars away from these programs. Strangely, it took the aerial tram to mobilize opposition to further TIF funding of transit.