After being in office just one week, San Antonio's new mayor, Ivy Taylor, proposed Monday that the city withdraw the $32 million it had promised to build a new $280 million, 5.9-mile streetcar line. Moreover, she persuaded Bexar County Judge Nelson Wolff, the region's leading streetcar proponent, to join her in declaring the streetcar plan dead. Wolff has previously said that he is too busy waging a re-election campaign against a streetcar opponent to campaign in favor of the streetcar plan.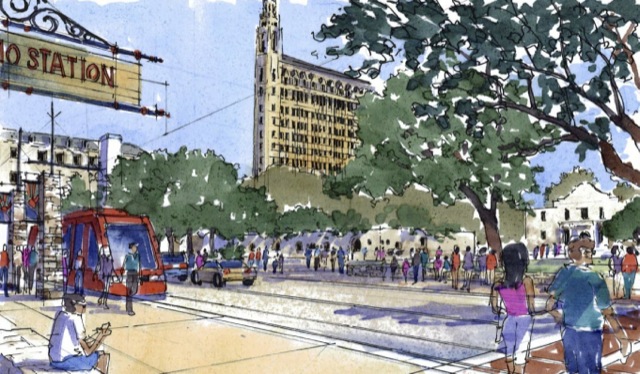 A planner's fantasy of what a streetcar would look like near the Alamo in San Antonio.
The announcements come amid controversy over an initiative petition submitted by streetcar opponents asking that voters be allowed to approve or reject the plan in November. The city has tentatively rejected most of the signatures, saying they were improperly collected. The petitioners have a legal opinion saying the city is reading the law incorrectly. The new mayor may be hoping that, in announcing the plan is dead, the demand for a vote will go away. If the city rejects the petitions now and opponents go to court, the measure may have to go to voters in a later election.