The State of Oregon should change its name to Denial, as state and local leaders seem to be living in that state most of the time. Although Portland Mayor Charlie Hales has declared the region's housing crisis to be an emergency–one that contributed to his decision not to run for re-election–no one wants to get serious about fixing the problem.
The latest is that Metro, Portland's regional planning agency, has decided that there is no need to expand the region's urban-growth boundary as there is plenty of room to accommodate the 400,000 new residents that region is expected to gain in the next two decades. Metro's plans calls for housing 80 percent of those new residents in multifamily housing primarily located in downtowns and along transit corridors.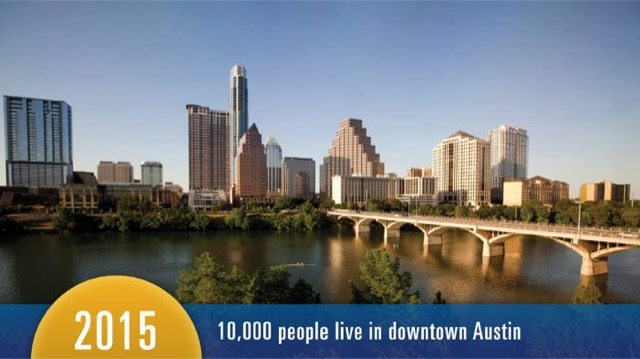 Downtown Austin today houses about 10,000 people.
As Texas transportation official Mike Heiligenstein pointed out at the American Dream conference in Austin two weeks ago, the idea that huge numbers of people can live downtown is absurd. Downtown Austin today seems to be a forest of high-rise condos, yet only 10,000 people live there. He pictured what it would look like with 20,000 more residents and it seems impossibly dense–yet 20,000 is less than 5 percent of the region's anticipated growth. Most Americans simply don't want to live in Manhattan, and given the nation's wide-open spaces, they shouldn't have to–yet planners in both Portland and Austin think they should.