Update: Fixed links to paper.
Most light-rail lines use as much or more energy per passenger mile as an average SUV, and many emit more pounds of CO2 per passenger mile than the average automobile. Moreover, the energy efficiency and CO2 emissions of automobiles are steadily improving, while the energy efficiency of both bus and rail transit are declining. Thus, cities that want to reduce their greenhouse gas emissions would do better to encourage auto drivers to buy more fuel-efficient cars than to build rail transit lines.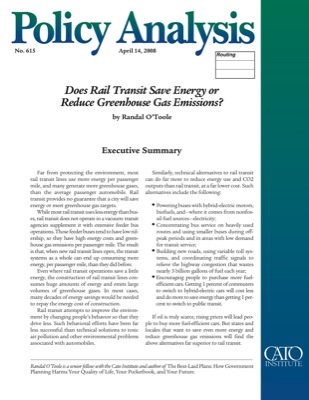 Those are the main conclusions of the Antiplanner's new Cato paper, "Does Rail Transit Save Energy or Reduce Greenhouse Gas Emissions?" While some rail transit operations are energy and CO2 efficient, the energy and CO2 costs of construction overwhelm any savings. Thus, from an environmental viewpoint, rail transit is almost always a bad investment.