As the Antiplanner noted in an earlier post, transit planners of the 1960s claimed — and may even have believed — that fares collected for new rail transit projects would cover all of their operating costs and most of their capital costs. Such claims are commonly made today for high-speed rail, but most transit advocates admit that transit will never cover its costs and argue that it shouldn't have to.
Secretary of Transportation Ray LaHood has even thrown out cost-efficiency tests imposed by his predecessor, Mary Peters, that the FTA used for judging whether it should fund a rail transit project. Instead, he wants to judge projects for their impact on livability, whatever that means.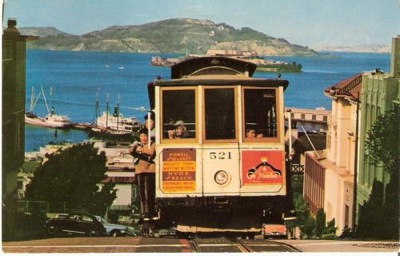 Can your rail line top this?
But there must be some test that a reasonable transit advocate (such as many of the Antiplanner's readers) would accept for judging whether a rail transit system is successful. For those who don't believe transit should be profitable, I propose the Cable-Car Test.