TriMet's $166 million "Westside Express Service" (WES) commuter rail is a miserable failure. After going 60 percent over budget, it is carrying only about 600 round trips per day. The amortized value of the capital cost alone is enough to buy every one of those commuters a brand-new Toyota Prius every year for the next 30 years. Those Priuses would be cleaner than the WES too.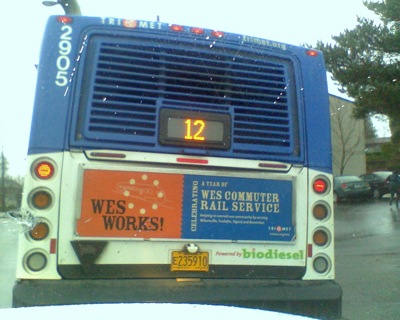 Click for a larger view. Thanks to Steve Schopp for the photo.
So naturally TriMet wants to "celebrate WES" so much that it is advertising this great project on the back of its buses. Note that it isn't asking people to actually ride the train, because that would never happen — no offense to Wilsonville, Tualatin, or Tigard, but from a transportation view the train goes from nowhere to nowhere, which kind of explains why hardly anyone rides it.