The Antiplanner's Ride Around Crater Lake Three Times in One Day (RACLTTOD) went well. My brother Richard joined me for all three laps, his wife Carin for two, and the Antiplanner's faithful ally (and sometimes commenter) Andy Stahl for two. With two 2-mile detours to Cloud Cap overlook, Richard and I did a total of 100 miles with 11,800 feet of elevation gain in 8 hours and 20 minutes of ride time–11 hours including lunch, rests, and sightseeing.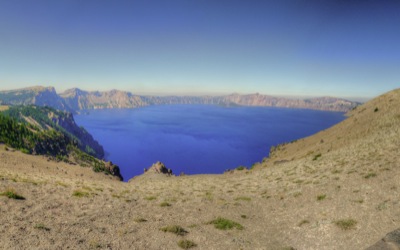 Crater Lake from Cloud Cap overlook.
An amateur racer, Andy is by far the better rider, but he handicapped himself by riding tandem the first lap with his 10-year-old son. A 10-year-old simply does not have the power to carry his own weight on such a long ride, so Andy had to work extra hard. After resting the second lap, Andy was easily able to drop the rest of us on a regular bike.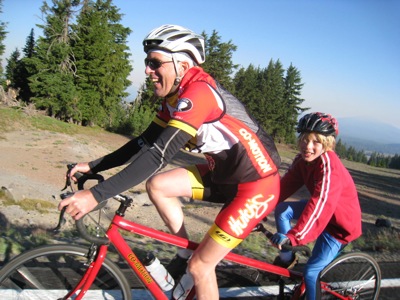 Andy and his son, Olallie circling the lake on the first lap.
While we were riding, comments on this blog focused on national park user fees. The original director of the Park Service, Steven Mather, believed that the parks should pay their way. Unfortunately, this goal was undercut, first by Congress which limited the amounts parks could charge and later by Mather's successors, who were eager to get federal funds to subsidize park expansion and operations.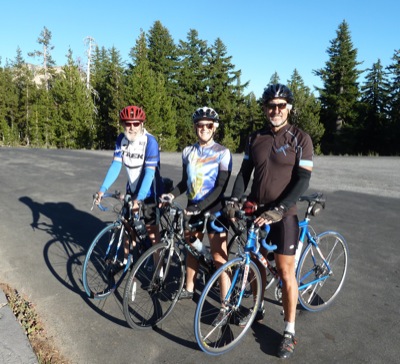 The Antiplanner, Carin, and Richard halfway through the third lap. Andy is way ahead of us, but our main concern is keeping warm as the day is cooling off.