Tesla Motors cut the price of an electric car in half last week with the announcement of the Model S, a seven-passenger sedan. Tesla's earlier model, the Roadster, was a two-seater that retailed for $109,000. The new hatchback sedan will go for $57,400. After deducting a $7,500 tax credit, the new car is less than half the cost of the old one.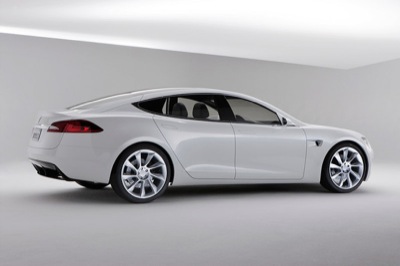 With optional long-range batteries, the Model S will have a cruising range of 300 miles (the standard battery has a range of 160 miles). The batteries are located in the floorboards and the motor is in the rear, leaving enough room for two child seats behind the conventional backseat.
The long hood is merely cargo space, leading Tesla to say that, despite its sleek design, the Model S can compete with most SUVs for moving people and goods. After folding down the seats, you can load a bicycle or 50-inch flat-screen television. But with three rows of seats, "it's just like a station wagon," says Tesla CEO Elon Musk.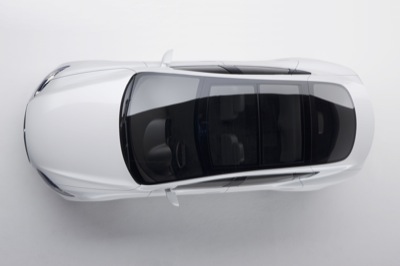 At the same time, the expanse of roof glass, a 120-mph top speed, with 0 to 60 in 5.6 seconds signal that the Model S will compete with various BMW, Lexus, Mercedes, and other luxury models that sell for well over $50,000.
The main drawback is the battery recharge time. Tesla expects its batteries will charge to 80 percent within 45 minutes. Alternatively, people can swap out the batteries for freshly charged ones in about the time it takes to fill a tank of gas. For that to work, Teslas will have to become popular enough that fuel stations across the country will stock batteries.
This is really just a concept car; Tesla doesn't even have a factory for building them yet. The company hopes to get a $350 million loan from the federal government so it can put the car into production by 2011. The company sold about 300 of the Roadster model, but production on a larger scale should dramatically reduce costs.
It is an article of faith among New-Urban, peak-oil theorists such as James Howard Kunstler that electric cars will never be feasible. This leads them to urge cities to begin redesigning themselves today for the post-petroleum, post-automobile age. But the Tesla shows that, even when oil becomes too expensive to use as auto fuel (which the Antiplanner thinks is unlikely for a century or more), automobiles will remain the dominant form of travel.