Weather forecasters predict that Washington, DC will get as much as two feet of snow tonight through Sunday morning. Fortunately, Washington has Metrorail, an "all-weather" transportation system.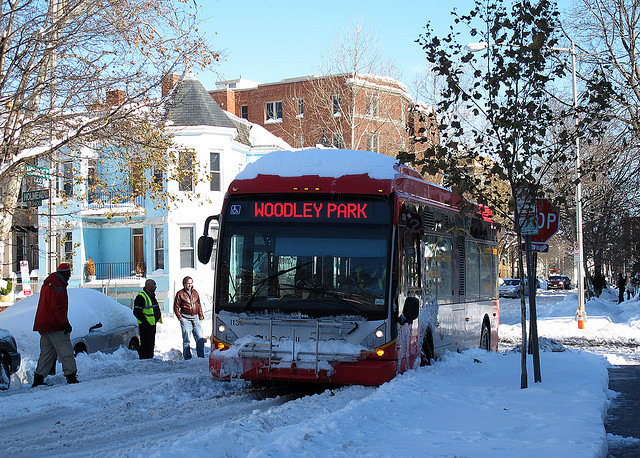 Some buses might get stuck, so we'll shut the whole system down. Photo taken during 2009 snowstorm by Mr.TinDC.
Metro officials' faith in their transit system in the face of bad weather is revealed by their decision to preemptively shut it down completely for the weekend. Though the big storm isn't predicted to start until after 3 pm today, buses are running on limited schedules and will stop service completely at 5 pm, paratransit will shut down at 6 pm, and trains will run until 11 pm and not restart until Monday morning.
That's the kind of bravery we can count on from our intrepid transit providers, who promise to spend billions of dollars of our money but don't promise to provide decent service in exchange. Seriously, considering that the region was practically shut down after having just one inch of snow Wednesday, you'd think the Metro system that is already losing riders due to service breakdowns would make a little more effort to provide back-up transportation if only to generate positive publicity.